If you are considering having plastic surgery at Chicago area Northwestern Medical Group there a multitude of things to consider from the type of implant, risk of complication, incision type, and of course how satisfied you will be after surgery. The aim of plastic surgery is to not only improve physical appearance but also body image, psychosocial function, and quality of life (Malay). Finding data on implant safety or the likelihood of complications gives very important information about the clinical aspects of a procedure (Malay). But how is patient satisfaction measured? What information is gleamed when patients have their feelings quantified? And why is it useful to quantify satisfaction?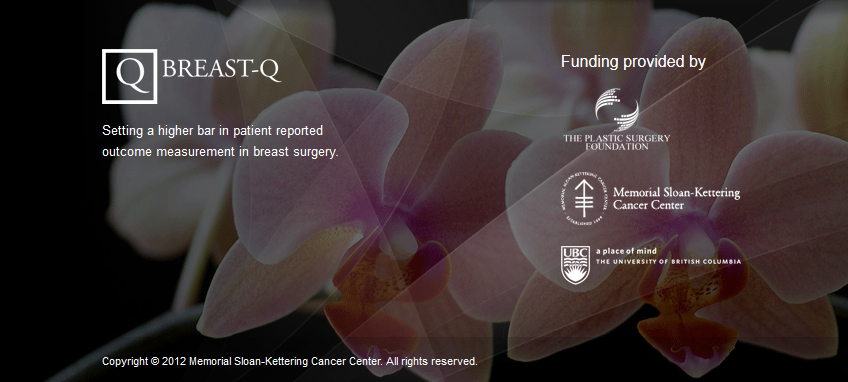 The BREAST-Q is the standard statistical tool used to measure patient satisfaction after breast surgery that was published in the Journal of Plastic and Reconstructive Surgery in 2009. The goal of the BREAST-Q survey is to capture a patient's perceptions of the results of the surgery (Pusic). The BREAST-Q includes questions such as:
With your breasts in mind, how satisfied or dissatisfied have you been with:
How your breasts look in clothes?
How your breast size matches the rest of your body?
With your breasts in mind how often have you felt:
Confident in a social setting?
Attractive?
Thinking of your sexuality how often do you generally feel:
Comfortable/ at ease during sexual activity?
These types of questions are effective at zeroing in on what is really valued by patients after surgery. The questions are not clinically focused, they are questions that are focused on how surgery has changed the patient's quality of life(Malay). The BREAST-Q survey has been able to tap into the core reasons that a patient may be satisfied or dissatisfied after surgery (Pusic). The BREAST-Q survey can give surgeons an insight to how a large number of patients responded to a given treatment.
Last year Dr. John Kim and his research team published a paper on patient reported outcomes when a new deep dermal ADM, FlexHD Pliable was used. Through the BREAST-Q survey the Dr. John Kim and his research team found that 2 months after surgery patients were not satisfied with their outcome, but after 6 months they were pleased with their outcome. Knowing this trend, with this type of surgery, surgeons can communicate that the patient's breasts will slowly improve and that other patients have found it took around 6 months for their breasts to be where they wanted.
Quantifying satisfaction is a useful tool for surgeons to determine how the techniques they use will translate into a real clinical outcome. In plastic surgery the outcome is based on not only clinical measures but also the patient's desired aesthetic result (Malay). Dr. Kim feels that evidence based practice is critical to his decision making while in surgery, and feels that it is important apply patient recorded outcome assessments to surgical practice.
The one trouble with questionnaires is they may not be able to capture the subtle nuances of a patient experience since all of the information is based on checked boxes versus free response. However, these questionnaires allow researchers to gain a plethora of data and be able to draw conclusions about a given practice in a way that would not be feasible with long responses. The BREAST-Q is a way for surgeons to tangibly measure the outcomes of patient satisfaction, and change practices to improve patient experience.
1. Pusic AL, Klassen AF, Scott AM, Klok JA, Cordeiro PG, Cano SJ. Development of a new patient reported outcome measure for breast surgery: the BREAST-Q. Plas Reconstr Surg. 2009; 124: 343-353.
2. Coriddi, Analysis of Satisfaction and Well-Being following Breast Reduction Using a Validated Survey Instrument: The BREAST-Q
3. Vu, M. M., De Oliveira Jr, G. S., Mayer, K. E., Blough, J. T., & Kim, J. Y. (2015). A prospective study assessing complication rates and patient-reported outcomes in breast reconstructions using a novel, deep dermal human acellular dermal matrix. Plastic and Reconstructive Surgery Global Open, 3(12).
4. Malay, S., & Chung, K. C. (2013). How to use outcomes questionnaires: pearls and pitfalls. Clinics in plastic surgery, 40(2), 261-269.