Over time, gravity pulls down our eyebrows and they slowly descend toward the eyes. This downward movement causes the upper eyelid skin to bunch and fold. As we develop deep frown lines and a low, sagging brow, this can significantly age our appearance. The goal of a brow lift is to restore a fresher, more youthful appearance by minimizing creases and wrinkles across the forehead and bridge of the nose; it also aims to reposition a low or sagging brow. During this surgical procedure, Dr. Kim will lift the deep tissue layers and muscles in the forehead, which will tighten this region. The forehead becomes smoother and better contoured to reveal a younger, fresher face. Dr. Kim commonly performs a brow lift in combination with other procedures to rejuvenate the entire face as a whole as opposed to just the forehead/brow line:
Neck Lift: the neck is one of the foremost body parts to give away our age. Sagging, shapeless necks result from loose, hanging skin that has lost its elasticity over time. Neck lift surgery removes fat and skin and tightens the muscles in the neck to remove wrinkles and create a tight, smooth profile. Combining a neck lift with a brow lift can create an entirely renewed appearance.
Facelift: You can rejuvenate the entire face by combining a facelift and brow lift. A facelift works by removing excess fat, tightening underlying muscles, and re-draping your face and neck skin. Your face will appear firmer, smoother, and younger when the fine lines and deep facial folds are smoothed out via facelift.
Eyelid Surgery: Also known as blepharoplasty, eyelid surgery rejuvenates one of the most important facial features—the eyes. Bright, vibrant eyes yield a fresh, young look. If you have droopy upper eyelids or sagging lower eyelids with apparent "bags", then eyelid surgery is likely a good option for you. Combining eyelid surgery with a brow lift will help reinvigorate the entire face.
If you are in the Chicago area and are interested in brow lift surgery by Dr. John Kim, renowned aesthetic surgeon, then contact his office to set up your individualized consultation today.
Choosing Brow Lift Surgery
Deciding to undergo brow lift surgery with Dr. John Kim is a highly personal decision and should only be done if it is right for you. A brow lift is an excellent option for those seeking to minimize creases on the forehead and bridge of the nose, improve frown lines (deep ridges between the eyebrows), and reposition a sagging brow to reveal a more youthful appearance. If you wish to have a brow lift, you should be in good physical health, should not smoke, and should have specific, realistic expectations for your surgical results.
Particularly good candidates for this procedure are younger people who are prematurely aging. If you are looking to resolve a low brow, unwanted stress lines across the forehead, or minimize inherited wrinkles, then you are a reasonable candidate for this treatment.
During your highly personalized consultation with Dr. Kim at his Northwestern Plastic Surgery downtown Chicago offices, he will carefully examine your face and take detailed measurements. He will customize a treatment plan for you and discuss all your options. He will make sure you understand all the risks and benefits of the procedure so you can make the most informed and accurate decision possible.
It is important to remember that a brow lift is in fact a surgical procedure. Non-surgical rejuvenation treatments are an alternate option, but these will not achieve the same results. Such treatments may be used until a brow lift is needed, or after a brow lift to complement and sustain the results of surgery.
If you would like to consider facial rejuvenation via a minimally invasive procedure, you have several options: Dr. Kim performs Botox injections and dermal filler treatments. These are non-surgical procedures that can reduce fine lines and other imperfections of the face.
The Brow Lift Procedure
Dr. Kim performs his brow lift surgeries using two different surgical strategies. The first is called an Endoscopic Brow Lift, and the second is known as a Coronal Brow Lift.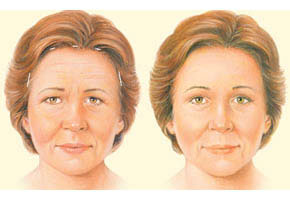 The Endoscopic Brow Lift is a surgery Dr. Kim performs with an endoscope. He creates small, short incisions in the scalp, and then special instruments are placed through the incision. Using these small instruments, the muscles and tissues beneath the skin are repositioned or removed. This reduces the visibility of creases in the forehead. Dr. Kim will remove excess skin and even muscles that are causing wrinkles, and he will lift the brows. Because the incisions are so small, this variation of brow lift surgery is a less invasive procedure. Minimal, well concealed scarring will result, and recovery time is shorter.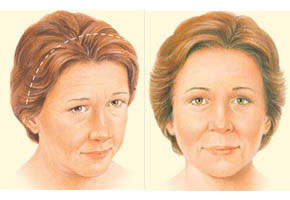 The Coronal Brow Lift involves a single continuous incision, beginning at ear level and going up across the top of the head. Then, the forehead is lifted, the excess tissue is removed, muscles are repositioned or removed, and the eyebrows are lifted. Once this is done, Dr. Kim trims excess skin and closes the incision. The incision lines are well concealed within the hair or natural contours of the face.
Brow Lift Recovery
Dr. Kim typically performs his brow lifts on an outpatient basis, so patients are able to return home the same day as their surgery. For a few weeks, you will likely experience soreness and/or swelling but taking care of yourself immediately after surgery should not be a problem. To help with healing and recovery, your forehead may be taped and your head may be loosely wrapped with a bandage to minimize swelling and bruising. Possibly, a thin tube will be used to drain excess blood or fluid that may accumulate under the skin. Directly after surgery, Dr. Kim will provide you with specific instructions on how to care for your face after surgery, including which medications to apply topically or take orally to aid healing and reduce infection risk.
Dr. Kim will explain what you can expect during your individual recovery period, including pain levels, activity and driving restrictions, and when and how often you should plan to come see him for follow-up visits. It is crucial that your incisions are not subjected to any motion, abrasion, or excessive force during the healing period.
Typically, you will need 5-10 days after surgery to heal. The swelling will reduce in just a few days, and bruising should resolve itself in two weeks. After about 1 week, makeup can be applied to conceal remaining bruising. The healing process is gradual, so it may take up to a few months before swelling has completely subsided and your incision lines mature. It is important that you contribute to maintaining the new, youthful appearance imparted by your brow lift, so you should protect yourself from the sun and lead a generally healthy, active lifestyle.
Brow Lift FAQs
Who is a good candidate for brow lift surgery?
The best candidates for brow lift are patients who are in good health, non-smokers and patients with realistic expectations about both the benefits and potential risks of brow lift surgery.
When is the right time to consider a brow lift?
If aging has become noticeable and bothersome to you, it may be time to consider brow lift surgery. The timing varies by patient. Some individuals notice the effects of aging in their 20s and 30s, whereas in others aging does not become evident until much later. The majority of patients choosing to have brow lift are in their 40s and 50s. Regardless of age, patients may opt for brow lift surgery when the brow area begins to sag, droop, or appear wrinkled.
What should I expect during my initial brow lift consultation?
When you meet with Dr. Kim, you will discuss your desires and aesthetic goals. Dr. Kim may also go over other cosmetic procedures that rejuvenate the face, including facelift, neck lift, blepharoplasty (eye lift), laser skin resurfacing, cheek and chin implants and fat grafting. You should be prepared to discuss the following:
Complete medical history
Medications
Areas of aesthetic concern
Dr. Kim will evaluate your overall health, take measurements and pictures of your face, discuss your options for addressing your problem areas, and recommend a treatment plan.
At your initial plastic surgery consultation, it may be helpful for you to bring a list of questions and concerns that can be specifically addressed. Also, since a brow lift can be combined with other treatments, it is important to discuss your full expectations with Dr. Kim so that he can help you achieve your aesthetic goals.
Should I have a facelift or a brow lift?
Face lifts and brow lifts share a common goal: to restore a rejuvenated and youthful look. Both procedures can offer a confidence boost, but the target area of treatment is what differentiates these two procedures. While brow lift will reduce wrinkles and signs of aging in the forehead area, facelift can dramatically improve a patient's facial appearance by removing excess tissue and tightening the muscles and tissues. Some patients choose to combine brow lift with facelift for optimum results.
Other facial rejuvenation procedures such as Botox, chemical peels or laser resurfacing may also be recommended.
During your consultation, Dr. Kim will go over your goals and give you an idea of what to expect as far as results to help you make an informed decision.
Are the results of a brow lift surgery permanent?
While brow lift will not prevent a patient from aging further over time, it will "set back the clock" and create a natural-looking, youthful appearance. The longevity of your results depends on several factors, including your skin condition. However, results may be prolonged if patients maintain their weight, avoid exposure to the sun and engage in proper skin care, keeping the skin appropriately hydrated.
What areas cannot be improved with a brow lift?
Typically, brow lift improves the upper portion of the face, including the forehead, wrinkling between the brows and drooping of the brows. Brow lift will not rejuvenate the lower portion of the face, including sagging, wrinkles, and other indicators of aging. Brow lift also cannot change the natural shape of your eyes but may provide a more "awake" look.
How much pain can I expect after a brow lift?
Some patients experience temporary numbness and discomfort near the incisions. Many patients feel little pain after surgery; to keep patients comfortable, Dr. Kim often prescribes oral medication for pain relief.
Will I have scars?
Many patients are concerned about scarring from brow lift surgery. Scarring occurs anytime the skin is cut into and is a natural part of your healing and recovery. The great news is that brow lift surgery generally leaves minimal scars. Dr. Kim will skillfully place the incisions to limit their visibility. You may notice visible scars following your procedure, but they will fade with time. It is important to follow Dr. Kim's post-surgical instructions, including his recommendations, so that you can further limit scars and enjoy a smooth recovery.
Can I combine procedures?
Patients interested in brow lifts often have sagging eyebrows and deep forehead wrinkles, as well as drooping eyelids. Generally, other procedures can be combined with brow lift surgery to address all areas of concern so that you are left with the results you desire.
Will my results look natural?
Over-arched, unnaturally high eyebrows often give patients a "surprised" look and can appear obviously unnatural. Dr. Kim has extensive experience ensuring the brow is uplifted to a flattering, natural position that complements the face and achieves a youthful appearance. A few different factors go into determining the procedure Dr. Kim will use to achieve your best brow lift results, such as the position of your forehead, the height of your hairline, and your desired outcome. During your consultation, Dr. Kim will go into detail about techniques, and together you will decide which course of action is right for you.
When can I get back to work?
Approximately one week after surgery, your swelling and bruising should subside, and your results should start becoming more apparent. You should be able to carry out light activities, such as a sedentary job and light walks, at this time. Your timeline may differ based on your unique circumstances. For example, you may not be able to return to a more physically active job as quickly. Dr. Kim will evaluate your progress, incisions, and anything you bring up during your follow-up appointments, and recommend permitted activities.
More About Dr. John Kim
Dr. Kim is an American Board of Plastic Surgery-certified Chicago plastic surgeon who has more than a decade of experience performing advanced surgeries on the face and body. Schedule your consultation with Dr. Kim today so you can discuss your individual cosmetic or reconstructive needs.