The Mommy Makeover is one of many cosmetic procedures intended to restore a woman's figure after her childbearing years. Typically, a mommy makeover may include a tummy tuck, breast augmentation and/or breast lift, and liposuction.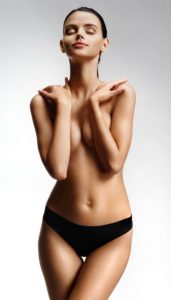 During pregnancy, many women have significant albeit normal weight gain. After pregnancy, some of that weight will dissipate over time. However, the overlying skin can become lax and require tightening. For some women, there is a laxity of the breast skin envelope that will result in "deflation" of the breasts. The breasts can also sag creating a flattened appearance that can be considered unattractive. The abdomen can also be stretched from the underlying uterus expansion so that a separation of the abdominal muscles occurs in the midline. This is termed "rectus diastasis" and can create a disconcerting bulge in the abdomen (especially with flexing).
Dr. John Kim's approach to the typical post-pregnancy body changes is to perform surgery for both the breast and the body — together.
Is Mommy Makeover Right for Me?
Choosing to undergo this surgery is a highly personal decision, one you should make to fulfill your own goals and desires as opposed to someone else's. Before you can undergo this surgery, you should plan on having no further pregnancies, as that will affect the results of your procedure(s). Ideal candidates for Mommy Makeover are women experiencing sagging and excess skin as well as weight gain that does not seem to subside with exercise and healthy diet. Patients may also be dissatisfied with the size, shape, or sagging appearance of their breasts. Patients in Chicago planning to have this surgery should be in good physical health, should not smoke, and should have realistic goals and desires for their outcomes.
Mommy Makeover Consultation
During your personalized consultation with Chicago Mommy Makeover plastic surgeon John Y.S. Kim, MD of Northwestern Plastic Surgery, Dr. Kim will carefully and thoroughly examine your body so he may customize an individualized treatment plan for your specific case. He will help you understand the risks of your proposed surgery so you can decide if the benefits will fulfill your goals.
Mommy Makeover Procedures

Click to View Before And After Photos
With the goal of restoring your pre-pregnancy figure, a Mommy Makeover is typically composed of several procedures to improve body contours through tightening your underlying tissues. The goal is to removal excess skin, which may require large incisions. Dr. Kim can often place these incisions where they are easily hidden by clothing. The length and pattern of the incisions are dependent upon the amount of correction Dr. Kim performs.
Your Mommy Makeover Procedures May Include:
Many women notice loose, sagging skin in their abdominal region following childbirth. During pregnancy, the skin is stretched quite taut, and upon giving birth, the skin loses its elasticity and cannot recover its initial shape. A tummy tuck removes any excess fat and skin from the stomach area, so that the muscles in the abdominal area are able to tighten, revealing a slimmer, smoother stomach.
Liposuction helps slim and reshape contours in a host of body regions. Liposuction is for reshaping. It is meant for people with stubborn fat deposits that simply will not go away with exercise and healthy diet. It can be performed as a stand-alone procedure or in combination with other plastic surgery cosmetic procedures, most commonly a tummy tuck. While liposuction is commonly excellent for removing target fat, it is unable to remove cellulite.
Many mothers experience extensive breast flattening or sagging, and breast lift surgery (mastopexy) is aimed at recreating the natural breast contour by raising the breasts on the chest wall and firming them. When Dr. Kim removes excess skin in the lift surgery, the surrounding breast tissue is tightened in order to reshape and support the new breast contour. With a breast lift, Dr. Kim can also reduce the size of your areola, in the event that it has enlarged overtime. Often, women considering a breast lift opt to combine it with an augmentation, a procedure known as an augmentation-mastopexy, or "augpexy". Incision patterns for mastopexy or augpexy include a circular pattern around the areola, a line extending from areola to breast crease, and sometimes a horizontal line spanning the breast crease.
The breast lift or mastopexy that Dr. Kim performs will re-position the nipple areola complex into a more youthful and uplifted position. The typical incision patterns for a breast lift can be seen here:
The breast lift or mastopexy that Dr. Kim performs will re-position the nipple areola complex into a more youthful and uplifted position. The typical incision patterns for a breast lift include:
Around the areola
Around the areola and then vertically down to the breast crease
Around the areola, vertically down from the breast crease, and horizontally along the breast crease
The mastopexy (breast lift) with augmentation can be supplemented with abdominal surgery. Typically, there is excess skin and laxity in the lower abdomen as well as potential rectus diastasis. Dr. Kim can correct this aesthetic deformity by performing rectus diastasis repair and by tightening the skin and muscles through a low horizontal incision known as the Pfannenstiel incision. Dr. Kim will coordinate the two surgeries of the mommy makeover (breast and abdomen) so that both can be done safely in outpatient fashion. In rare circumstances, the patient will need to stay over at Prentice Women's Hospital or Northwestern Memorial Hospital for 23-hour observation. Dr. Kim discusses this need on a case-by-case basis.
For women who are unhappy with their degree of breast fullness after pregnancy or breast feeding, a breast augmentation can restore the volume and shape of their breasts. With the insertion of a permanent implant under the breast for the purpose of increasing the volume, size, and shape, the natural perkiness of the breasts lost during pregnancy is restored. Breast augmentation is notorious for improving the proportions of your figure, enhancing your self-esteem, and improving self-image.
Lower Body Lift
After pregnancy and childbirth, you may want to consider a lower body lift if you are unhappy with the appearance of your buttocks, abdomen, waist, hips, or outer thighs. The goal of a lower body lift is to improve the sagging appearance by removing a "belt" of excess fat and skin, and to tighten and firm the lower body contours.
Mommy Makeover Recovery
Plastic surgeon Dr. John Kim typically performs his Mommy Makeover surgeries on an outpatient basis, meaning you will go home the same day. Directly following surgery, dressing and bandages will likely be applied to your incisions, and an elastic bandage will be applied to reduce local swelling. Thin, small drains may be placed temporarily under the skin to drain any excess blood or fluid that wants to accumulate in the area. Dr. Kim will provide you with specific instruction on how exactly to care for your surgical site after surgery, including which medications to apply or take orally to improve healing and avoid infection. He will also specify when he would like you to follow up with him for visits to his Northwestern Plastic Surgery office in Galter Pavilion in downtown Chicago on the Northwestern campus.
It is crucial that you follow the guidelines Dr. Kim puts in place for you during your time of healing. He will explain what to expect during your personal recovery period, including pain expectations, driving restrictions, and general activity limitations. It is key that your incisions are not subjected to any abrasion, motion, or excessive force during your healing period. The healing process is different for each patient, based on each person's different anatomy as well as the degree of correction Dr. Kim performed. After a few weeks, patients are typically able to resume the majority of their daily activities, including mild exercise.
Swelling usually begins to subside within two weeks, at which time you will notice your firmer, smoother new contours. Scars often appear prominently during the first few months after surgery, but these begin to lighten and flatten gradually. They will never disappear entirely, so Dr. Kim does his best to create the incisions in locations where they can be covered by clothing.
Almost immediately after surgery, you will start to see the results. For several weeks after your procedure, though, Dr. Kim may require you to wear a compression garment to support your healing tissues and minimize potential swelling. It may take up to 1-2 years for your results to fully develop, but they are very long lasting provided you commit to upholding a healthy diet and active lifestyle.
Post-Op Care
Typically, Dr. Kim will see his patients after surgery and in the first week after their Mommy Makeover. The office visits are at Northwestern Memorial Hospital in downtown Chicago (Gold Coast neighborhood) in the Galter Pavilion clinic where Dr. Kim has his plastic surgery offices. He always makes sure to provide detailed postoperative instructions verbally, and the patient will receive written instructions in regards to their breast and abdominal care.
Mommy Makeover FAQs
When is the best time to have a Mommy Makeover?
Prior to choosing to have a Mommy Makeover, there are a few items to consider. First, it is often recommended that a woman wait until she is finished having children. Since you are making a personal and financial investment in the surgery, it may be in your best interest to wait until you have completed your family.After you have decided to undergo a Mommy Makeover, you should wait until the body has recovered from pregnancy and childbirth. Typically, this will occur around six months following childbirth. A woman should also be finished breastfeeding so the breasts are able to return to their natural size and shape.
Is it safe to receive multiple procedures at one time?
Many plastic surgery patients have this question because a Mommy Makeover frequently consists of a combination of procedures. To answer, yes, it is safe to receive multiple procedures at one time. It is easier on the body to be under anesthesia on one occasion as opposed to two or three, and also can improve recovery time.
Can the Mommy Makeover get rid of my stretch marks?
There is not a procedure that will specifically eliminate stretch marks on the body. However, a tummy tuck may lessen the appearance of stretch marks, or even entirely remove them, depending on the location and amount of skin that is removed.
Will I still need to exercise after receiving the Mommy Makeover?
A Mommy Makeover is not a substitute for weight loss. Following a Mommy Makeover, patients are advised to incorporate regular exercise and a healthy diet into their regular routine. This will enhance the results of the Mommy Makeover and make them long lasting.
Can I have more children after receiving a Mommy Makeover?
Having more children following a Mommy Makeover is definitely an option, but patients are advised to hold off on choosing a Mommy Makeover if they know they desire to have more children in the future. At your consultation, Dr. Kim will be able to further discuss this topic and help you make a choice that best fits your goals and plans.
Will a hysterectomy affect Mommy Makeover results?
A hysterectomy will not affect Mommy Makeover results. Often, patients coordinate the procedures between their gynecologist and plastic surgeon to avoid having surgeries on two separate occasions.
When can I resume normal activities after Mommy Makeover?
Light activity should be possible for you, according to your comfort, within a couple of weeks after the surgery. Patients should have the ability to engage in more strenuous activities, such as exercise, after six weeks.
How soon can I return to work after a Mommy Makeover?
Typically, individuals are able to return to work after about two weeks. The exact amount of time will depend on the extent of your surgery, your pain tolerance, and the physical demands of your work.
What types of body changes does mommy makeover address?
Using a variety of surgical techniques, mommy makeover targets the weakened or separated abdominal muscles, sagging breasts and folds of skin that arrived along with your baby. Most women can expect to gain 25 to 35 pounds when pregnant. Much of this added weight is fat that accumulates in the abdomen, hips, thighs, buttocks and breasts. As the stomach expands during the nine months of gestation, abdominal muscles stretch and may even separate. This loss of integrity in the abdominal wall creates a bulge or "pooch" that weight loss alone cannot eliminate.
Meanwhile, the skin gives way to accommodate the expanding abdomen, breaking down collagen and creating stretch marks. Once your baby has been delivered, your body will begin to lose much of the weight you gained, but fat will often stubbornly linger in areas that were once trim and fit. Rapid weight loss in the breasts may actually lead to sagging or an unwanted "pancake" look.
How long should I wait before undergoing surgery?
Genetics and to some degree lifestyle will largely determine whether you return quickly to your pre-baby profile, or need some help in reclaiming the shape you remember. Experienced Chicago plastic surgeon Dr. John Kim recommends that you wait at least three to six months after childbirth before making any final decisions about surgery. At that point you will know how much of the weight gain during pregnancy was temporary, and which areas are likely to benefit from mommy makeover.
What are the most common procedures that women choose for mommy makeover?
There are many available choices, and Dr. Kim is skilled in performing multiple procedures in a single operation. Moms select procedures based on their own post-pregnancy experience, their expectations and the ideal body shape they envisage. Mommy makeovers typically include two or more body contouring procedures, such as liposuction, tummy tuck, breast lift and breast augmentation.
Tummy tuck is usually central to mommy makeover. With tummy tuck, the stomach benefits from a smooth, "tucked-in" profile after the removal of excess skin and fat and the tightening of the abdominal muscles. Women often choose abdominoplasty as a way to restore tone to stomach muscles that weakened or separated during pregnancy. The procedure can also be effective at improving the appearance of stretch marks in the area that is tightened.
Many women like to add a few extras to their mommy makeover for an even more dramatic transformation. For example, laser skin treatments and chemical peels revitalize the complexion, and dermal fillers can erase fine lines and add volume to lips.
Does mommy makeover include C-tuck?
C-tuck is when tummy tuck is performed right after a Caesarean birth. Although the idea has gained popularity in recent years, Dr. Kim recommends that tummy tuck be delayed for several months. Your body needs time to recover from the stress of pregnancy and to heal. The stretching of the abdomen and uterus can make it difficult for a surgeon to determine the extent of the tightening you will need. You will also feel weak and exhausted from labor; Dr. Kim advises that expectant moms wait until mind, emotions and body have all fully recovered. Plus, if you later decide that you would like to have more children, it will be appropriate to wait until your family is complete, as a subsequent pregnancy will reverse the muscle strength, tightness and integrity gained from tummy tuck.
If you are in Chicago or the surrounding areas, please contact Dr. John Kim's office to set up a consultation at Northwestern Plastic Surgery. At your personalized consultation, you can work with Dr. Kim to establish your goals and desires to create a more beautiful you.