Dermal fillers are a great option for individuals looking to restore youthful fullness to the face, enjoy plump lips, enhance shallow contours or soften those facial creases and wrinkles. Also referred to as "liquid facelift," treatment with dermal fillers will provide individuals with many of the desirable results of a Chicago facelift, but none of the recovery or downtime.
Dermal fillers will add more volume to tissue, but will not eliminate or reduce excess sagging skin. They deliver temporary results and must be repeated regularly to maintain the desirable effects. Dr. Kim will assess your needs and recommend one or a combination of treatments to achieve your desired results. Some dermal fillers are used in conjunction with other skin rejuvenation treatments such as injections of BOTOX.
If you are in the Chicago or the Gold Coast area and are interested in dermal fillers, please contact plastic surgeon Dr. John Kim at his offices at Northwestern Plastic Surgery.
What Dermal Filler is Right for You?
Temporary Fillers
Human fat (AKA Autologous fat) – This filler is actually fat harvested from your own body. Using your own fat requires a more extensive procedure than other injectable fillers because you first must undergo liposuction to extract the fat prior to injection. You eliminate the risk of allergic reaction or rejection by the body by using your own fat. Since not all fat cells survive when transplanted into a new site, you can expect a fairly high rate of re-absorption. Because of this, Dr. Kim will likely overfill the area being treated.
Collagen – A natural substance known as a protein, and the main component in cartilage, teeth and bones. It is derived either from human skin or cows (known as bovine collagen). Brand names include: CosmoDerm, Cosmoplast, Zyderm, Zyplast.
Human cadaveric dermis (ADM) – This filler is skin that is cultivated from a cadaver, then injected into your face. This substance results in particularly impressive filling of facial hollows. Brand names include: Cymetra, Dermalogen, Fascian.
Hyaluronic acid (HA) – A natural substance found in your body – in soft connective tissue, the fluid surrounding your eyes, as well as cartilage, joints, and skin. Hyaluronic acid is not derived from animal sources. Brand names include: Captique, Esthélis, Elevess, Hylaform, Juvéderm, Perlane, Prevelle, Puragen and Restylane.
Calcium hydroxylapatite – This filler is one the heaviest facial fillers and is found naturally in human bones. It is made up of calcium-based microspheres are suspended in a water-based gel. This mineral-like compound is reserved to fill the deepest creases such as nasolabial folds, marionette lines and frown lines. It's also used to enhance fullness of the cheeks and other facial contours. Brand names include: Radiesse, Radiance.
Polylactic acid – This filler is a synthetic material. When it is injected, it stimulates the body to produce collagen. This substance is known to work particularly well in the lower half of your face to fill the lines caused by laughing, to augment thin lips and fill out deep nasolabial folds. Since it increases production of collagen over time this filler does not produce immediate results but rather gradually over a period of a few months. Brand names include: Sculptra, New-Fill.
Semi-Permanent
PMMA (polymethylmethacrylate) – These fillers contain tiny PMMA microspheres that are suspended in collagen gel. PMMA is most often used to treat medium-to-deep wrinkles, folds and furrows, particularly nasolabial folds. It can also be used to fill out pitted scars and to augment thin lips. Because of its long lasting nature, Dr. Kim will likely under-fill on the first treatment, adding more later if necessary. Brand names include: Articol, Artefill, Metacrill.
The Procedure
When you meet with Dr. Kim, he will listen to your desired results and then evaluate your facial appearance and skin tone. In particular, he will focus on the areas of your face to be augmented with cosmetic dermal filler. He will then mark strategic points on your face as guides to the appropriate injection sites for the filler.
After cleaning the area with an antibacterial agent, a topical anesthetic will be used to numb the area, particularly if you are sensitive to injections. In some cases, the dermal filler includes an anesthetic in the mixture.
The actual injections will take just a few minutes total, and just seconds per site. You will then be given an ice pack to reduce any minor and temporary discomfort. At this point you may
apply makeup, but be careful not to apply pressure to the treated areas. Doing so may result in movement of the dermal filler.
Scars and deep lines often require multiple injections to achieve your desired results. If a deeper injection is required, you'll be offered a local anesthetic to remain comfortable. Common sites for deeper tissue fillers are the nasolabial folds and marionette lines, or to enhance fullness in the cheeks.
Injectables FAQs
What Is a "Liquid Facelift?"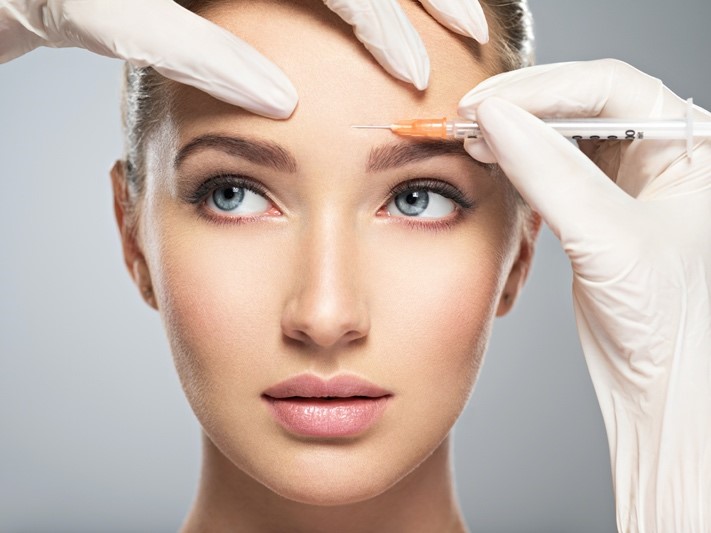 A liquid facelift offers temporary anti-aging benefits like the traditional facelift using dermal fillers to address lines and wrinkles, folds, furrows and volume loss. Multiple injectables are combined in one treatment session to customize your liquid facelift and address your aesthetic concerns. This non-surgical method can treat sagging cheeks, forehead lines and many other signs of aging.
When Will I See Results from Injectables?
Most injectable results settle in two to three weeks after your appointment. You will likely notice some improvement immediately depending on the treated area and type of dermal filler. Some patients experience mild swelling and bruising, which will subside and reveal your youthful results. Some injectables require repeat treatments every few months, while others last one year or longer.
What Can I Expect During Recovery?
Your recovery depends on the injectable. Healing from a fat transfer procedure will be more intensive than a hyaluronic acid dermal filler. Swelling and bruising along with temporary numbness can occur, and you should avoid strenuous activity for one or two days for most injectables. Dr. Kim will discuss your options to ease discomfort, such as applying ice or massaging the area. For fat transfer recovery, you will also be healing from liposuction in the donor area, and you may need one to two weeks of downtime.
How Long Do Injectables Last?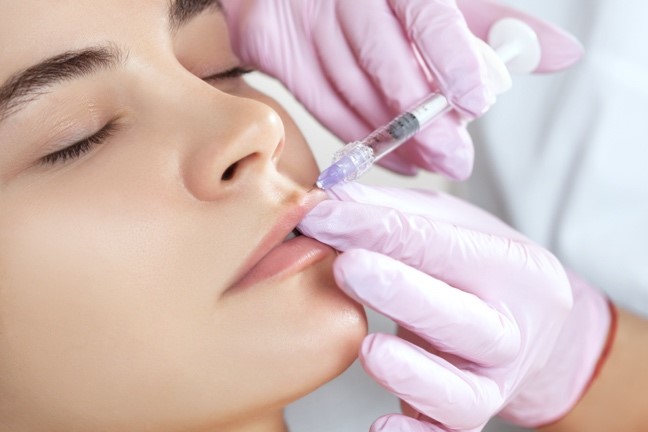 All injectable treatments are temporary, but some last much longer than others. Hyaluronic acid fillers may last six to 18 months. PMMA injectable results are semi-permanent, lasting up to five years, while lip augmentation with injectables tends to wear out faster than other treatments.
Injections of your own repurposed fat are long-lasting, but you may experience an initial "overfilled" appearance as some of the fat is expected to reabsorb into the body. Your natural-looking results will settle in later.
Are Injectables the Same as Botox?
Botox is made with botulinum toxin, a neuromodulator that works to freeze muscle movement and improve lines and wrinkles caused by repeated facial expressions. Dermal fillers are formulated to "fill in" areas of your face that experience volume loss, scarring or signs of aging. Botox is injected into the muscle (intramuscular), whereas dermal fillers are placed under the skin (subcutaneously). Botox has surprising medical benefits, such as easing migraine headaches and muscle spasms.
What Cosmetic Concerns Can Injectables Treat?
The various fillers offered by Dr. Kim provide treatment for nearly all cosmetic concerns. Injectables are often used to enhance facial plastic surgery results, including facelift, necklift or blepharoplasty. Some of the most common issues our patients wish to address with injectables include:
Thin lips
Shallow facial contours
Mild-to-severe creases and wrinkles
Deep or recessed scars
Under-eye bags and shadowing
Facial deformities
Volume loss
Am I a Candidate for Injectables?
Most adults are good candidates for injectables. You need to be in good overall health and a non-smoker. You must have realistic expectations for what dermal fillers can accomplish for your appearance and be committed to maintaining healthy skin.
More about Dr. John Kim
Dr. John Kim is a renowned plastic surgeon who offers a range of advanced surgical and non-surgical enhancement procedures to help patients achieve their aesthetic goals. In addition to Botox and dermal fillers, Dr. Kim performs facelift surgery, eyelid lift and browlift in Chicago. He is also a leading provider of breast procedures, such as breast reconstruction, breast lift and breast augmentation in Chicago. If you have been considering cosmetic surgery, schedule a consultation with Dr. John Kim.