Upper and Lower Blepharoplasty at Northwestern Plastic Surgery

Blepharoplasty, also known as eyelid surgery, is a procedure that removes fat as well as excess skin and muscle from the lower and/or upper eyelids. Many people experience drooping upper lids and puffy bags below their eyes, and these features make us look older or more tired than you feel — eyelid surgery can rejuvenate and refresh your eyes, which are a defining feature of our overall appearance.
Dr. John Kim is a talented Chicago eyelid surgeon, performing upper and lower eyelid surgery in conjunction with other surgical or non-surgical procedures to reinvigorate the entire face. These include:
Brow Lift: A forehead lift is intended to uplift and improve the positioning of the eyebrows for those who have deep frown lines or a low, sagging brow. Dr. Kim creates tiny incisions along the hairline through which he lifts the deep layers of tissue and muscles in the forehead. The forehead soft tissues are tightened and the result is a better contoured, more youthful appearance. A brow lift in combination with eyelid surgery can rejuvenate your overall facial appearance.
Facelift: The goal of a facelift is to remove excess facial fat, tighten underlying muscles, and re-drape the skin of the face and neck. This serves to smooth out fine lines and deep facial folds so your face appears smoother, firmer, and younger. The results are further enhanced when combined with blepharoplasty procedures.
Botox: If you experience crow's feet or fine lines around your eyes, combining eyelid surgery with regular Botox treatments is a great option. Dr. Kim will choose to inject specific muscles that are responsible for causing the wrinkles you are dissatisfied with. The Botox serves to block certain muscular nerve signals so the muscle cannot contract and thus cannot reveal wrinkles.

If you are in the Chicago area and are interested in eyelid surgery, please contact renowned aesthetic surgeon Dr. John Kim at his offices at Northwestern Plastic Surgery.
Choosing Eyelid Surgery
Opting for blepharoplasty surgery is a highly personal decision and should only be done if it is right for you. This type of surgery is an excellent option for people with puffy upper eyelids, excess skin and fine wrinkles on the lower lids, bags and dark circles under the eyes, loose skin hanging from the upper eyelids, or lower eyelid droopiness. Eyelid surgery will not remove wrinkles entirely nor eliminate dark circles completely. It also cannot erase evidence of your racial or ethnic heritage, although it can add an upper eyelid crease to Asian eyes (this procedure is known specifically as "Asian Blepharoplasty").

Those who elect to have eyelid surgery should not smoke, should be in good physical health, and should have realistic and specific expectations for the results achieved by this procedure. During your personalized consultation with Dr. John Kim at his plastic surgery offices in downtown Chicago, he will closely examine your face and obtain detailed measurements. He will customize a treatment plan that is right for you and discuss all of your options in detail. He will explain all risks and benefits of surgery so you can decide if your goals can be fulfilled in light of potential complications. This decision is an extremely personal one, so Dr. Kim will help you understand all facets of the procedure so you may make as informed a decision as possible.
The Eyelid Procedure
Dr. Kim's technique for your eyelid surgery will vary depending on the amount of fat and skin in your eyelid areas, the condition of the muscles around your eyelids, and the position of your eyebrows. Dr. Kim will choose the best surgical technique that will yield optimal results.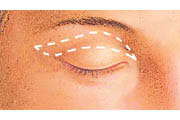 To correct drooping or sagging of the upper lid, Dr. Kim will make an incision in the natural crease of the eyelid. This allows for any scar to be concealed in your natural eyelid fold. After he makes the incision, Dr. Kim repositions the fat, tightens the muscles and tissues, and removes are excess skin and fat.
To correct lower eyelid drooping or sagging, the incision is made just below the lower eyelash line. This allows for the scar to heal unnoticed in your natural crease line. Through this incision, excess fat, muscle, and skin are removed. Other fat is repositioned to eliminate puffiness or bulges. A second technique that Dr. Kim may employ to correct lower eyelid conditions is the transconjunctival incision, which is hidden inside the lower lid. No incision is visible with this strategy.
Eyelid Surgery Recovery
Dr. Kim typically performs his patients' eyelid surgeries at Northwestern Memorial Hospital or Prentice Women's Hospital in downtown Chicago on an outpatient basis. This means patients are often able to return home the same day as their surgery. For a few weeks, you may feel sore or experience some swelling, but you should be perfectly able to take care of yourself immediately after surgery. Initially following surgery, ointment and a cold compress may be applied, or your eyes may be loosely covered with gauze. You may notice some swelling or bruising at the incision sites, or you may have dry eyes or irritation. Dr. Kim will give you very particular instructions on how to care for your eyes following your procedure, including which medications you should apply topically or take orally to reduce infection risk and aid healing. He will also specify when you should see him in his Chicago office for follow-up visits.

Before & After Blepharoplasty Photo Gallery
Dr. Kim will explain what you should expect during your individual recovery period, including activity or driving restrictions as well as pain expectations. It is crucial that you do not subject your new incisions to any force, abrasion, or motion during your healing period.
It typically takes patients approximately 5-10 days to heal from eyelid surgery. The swelling will settle within just a few days, and bruising should resolve itself in two weeks. In the meantime, makeup can be gently applied to conceal bruises. The healing process is a gradual one, so it may take a few months before the swelling is eliminated completely and your incision lines mature. After surgery, you should protect yourself from the sun and lead a generally healthy lifestyle in order to best maintain your new youthful appearance and better defined eyelids.
Blepharoplasty FAQs
Who is a good candidate for eyelid surgery?
The best candidates for blepharoplasty are patients who are in good health, non-smokers and patients with realistic expectations about both the benefits and potential risks of eyelid surgery.
When is the right time to consider eyelid surgery?
If you are bothered by the way the aging process has affected your eyes, or bothered by excess tissue that seems to interfere with your vision or appearance, it may be the right time for you to consider eyelid surgery.
What should I expect during my initial eyelid surgery consultation?
When you meet with Dr. Kim, you will discuss your desires and aesthetic goals. Dr. Kim may also go over other cosmetic procedures that rejuvenate the face, including brow lift, facelift, neck lift, laser skin resurfacing, cheek and chin implants and fat grafting.
At your initial consultation, it may be helpful for you to bring a list of questions and concerns that can be specifically addressed.
Is eyelid surgery permanent?
While eyelid surgery will not prevent a patient from aging further over time, it will "set back the clock." However, results may be prolonged if patients maintain their weight, avoid exposure to the sun, and engage in proper skin care, keeping the skin appropriately hydrated.
How much pain can I expect after eyelid surgery?
Some patients may experience some temporary numbness and discomfort around the incisions. Many patients do not feel much pain following surgery; to keep them comfortable, they are often prescribed oral medication to relieve any pain they may experience.
Will there be scars after upper or lower eyelid surgery?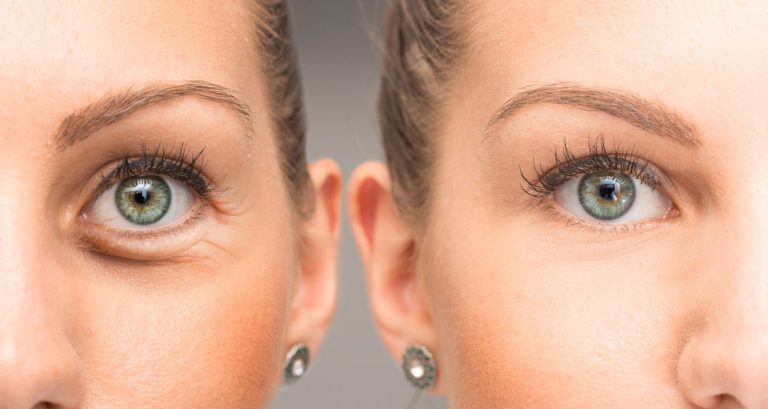 The thin eyelid skin may heal better than other body areas. Scarring is typically minimal and only visible when you close your eyes and know where and what to look for on the eyelids. Upper blepharoplasty may leave small incision lines in the natural eyelid crease. Lower eyelid surgery may leave no visible scarring because the incision is either inside the lower eyelid or concealed beneath the eyelash line.
The visibility of scars often comes down to your genetics and the type of procedure. The eyelids usually heal well, and many people have difficulty finding the incision line unless they know where to look.
Is there a best age for eyelid surgery?
Some patients desire eyelid surgery in their early 30s, while others don't consider blepharoplasty until their 40s, 50s or 60s. However, age isn't the defining factor as much as the state of your eyelid skin and lines and wrinkles in the eye area. The eyelids may show signs of aging before other facial areas due to the delicate tissues. Your genetics and habits (such as smoking and sun exposure) may affect how quickly your eyelids start to sag, wrinkle or become puffy. Younger patients may not struggle with excess skin like their older counterparts but may notice bulging fat in their lower eyelids and choose to pursue a lower blepharoplasty earlier.
Why should I consider combining eyelid surgery with other facial procedures?
Patients with puffy under-eye bags and sagging upper eyelids may also struggle with facial volume loss and lines and wrinkles. Combining eyelid surgery with facelift or another facial surgery ensures a balanced appearance for people with multiple signs of aging. Combining face procedures enhances several areas of the face at once for dramatic results with a single surgery and recovery. Patients can save on surgical costs and time away from work and achieve their end goals faster with combination face procedures.
Can I wear contact lenses after eyelid surgery?
Patients should wait at least one to two weeks (or longer) before wearing contact lenses after eyelid surgery. Dr. Kim can discuss when to discontinue wearing contact lenses and when to resume their use after eyelid surgery safely. Placing contact lenses on the eye requires manipulating the eyelid tissues to access the cornea. Wearing contact lenses may affect eyelid surgery results if done too early, causing significant discomfort and healing challenges.
When can I shower after eyelid surgery?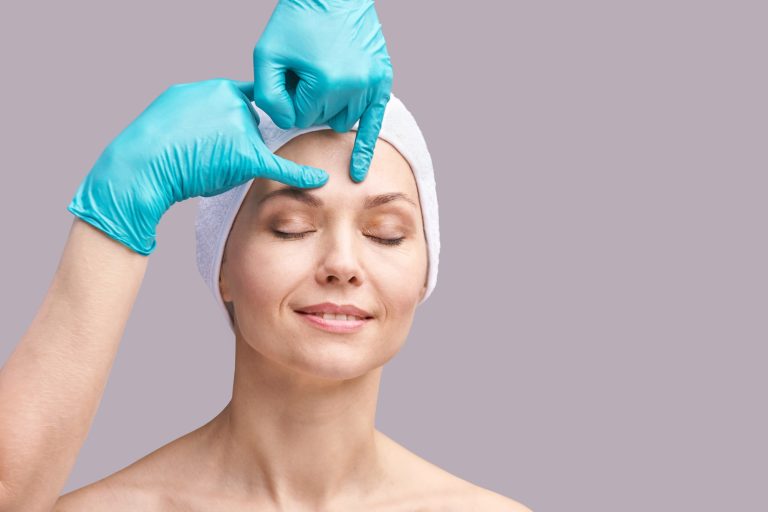 Patients may take a careful shower the night of their eyelid surgery, but the water should focus on the neck down. Avoid taking a full shower until Dr. Kim clears you to do so. It's important not to get water on the surgical area and to avoid rubbing your eyelids, forehead and cheeks during healing.
How often do I need post-operative appointments after eyelid surgery?
Dr. Kim and our office staff will discuss your schedule for post-operative appointments after your blepharoplasty. These visits ensure you're healing correctly and reaching the desired results. Typically, a patient is seen for a follow-up the day after their surgery and again one week, one month and 12 months later. Dr. Kim encourages patients to contact our Chicago office about concerns during recovery. Don't wait until your follow-up if you're worried about a symptom or other issue.
Schedule Your Consultation for Eyelid Surgery in Chicago
Dr. Kim is a renowned aesthetic and reconstructive plastic surgeon in the Chicago area. He is American Board of Plastic Surgery certified and is committed to helping his reconstructive and aesthetic patients alike achieve their specific goals. His practice is based out of the Northwestern campus in downtown Chicago, IL. Contact Dr. Kim to schedule a consultation today.