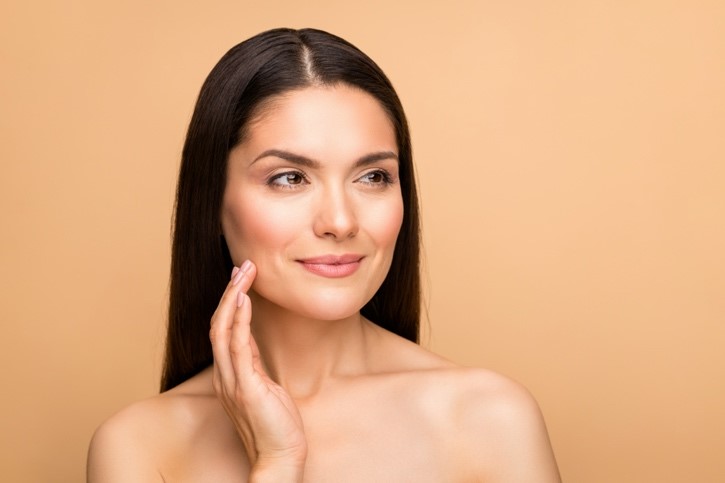 As we age, exposure to the sun and stresses of daily life plus the effects of gravity can be seen on our faces. Lines and wrinkles often form around the nose and mouth and fat deposits may collect around the jawline and under the chin. Facelift can restore a beautiful appearance and take several years off your complexion.
What is Facelift?
A facelift, also known as a rhytidectomy, will not stop the aging process but instead will improve the most visible signs of aging, or "set back the clock".
In this procedure, Dr. Kim will remove excess fat and tighten underlying muscles, and then re-drape the skin of your face and neck. In smoothing out fine lines and deep folds, the face appears firmer and smoother, which imparts a younger appearance. This type of surgery often leaves patients feeling confident and rejuvenated. Although this surgery will help you achieve a younger, fresher appearance, it will not stop the actual aging process.
The results will certainly be long-lasting, but they are not permanent. The best way to care for your results so they last include living an active, health lifestyle and taking good, thorough care of your skin. In particular, avoiding sun exposure is key, as this leads to many of the most common irregularities that develop on and around the face, such as the folds and deep wrinkles facelift and neck lift surgery attempt to repair. It is crucial to apply an SPF year-round on a daily basis and to minimize sun exposure via protective clothing and brimmed hats.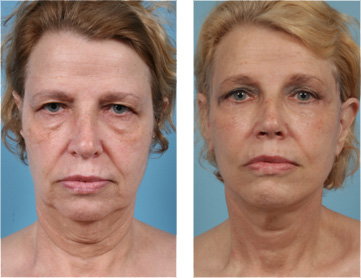 Before & After Facelift Photo Gallery
Facelift Consultation
Dr. John Kim is a renowned plastic surgeon in Chicago who works closely with his patients to develop a surgical plan for optimal results. Often, he will suggest you undergo a facelift in conjunction with a neck lift in order to achieve the best, most cohesive results.
During your personalized consultation with Dr. John Kim, Chicago aesthetic plastic surgeon, he will carefully examine your face and take specific measurements. He will talk you through a customized treatment plan and discuss all the options available to you. He will help you understand all risks and benefits of the procedure so you can make your best, most informed decision.
Candidates for Facelift
Adults with loose facial skin and moderate to severe signs of aging in the mid- and lower face may qualify for facelift surgery. The skin ages like the rest of your body, producing less and less collagen, elastin and hyaluronic acid. The decrease in these compounds thins and dries the skin, causing visible lines and wrinkles and loose skin. The fat pockets are also affected by natural aging and gravity and tend to shrink and sink lower in the face, causing jowling around the jawline and hollowing in the cheeks. People who struggle with these cosmetic concerns are often good candidates for facelifts.
Dr. Kim will discuss your facial plastic surgery options during your consultation and will go over your medical history and goals for your face. You should be in good overall health before elective surgery, and medical conditions such as diabetes must be well managed to ensure proper healing. Good facelift candidates have no health concerns or habits that inhibit healing, such as smoking.
You need to have realistic expectations for facelift results, and a positive outlook. It's also critical that you choose facial plastic surgery for your own reasons and not to please someone else.
Facelift and Other Procedures and Treatments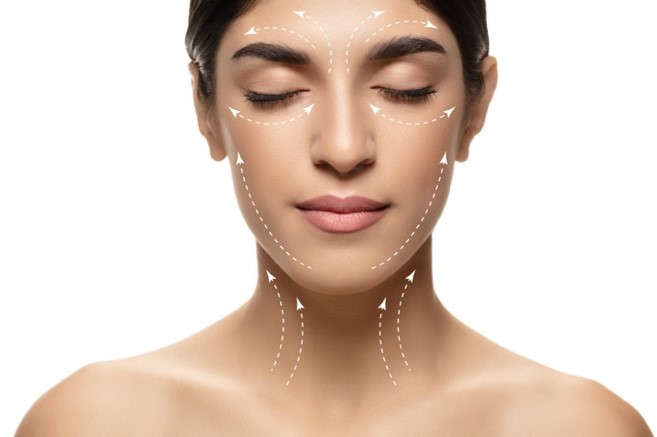 Facelift focuses on the mid- and lower face and does not address the upper areas around the eyes and forehead. It's possible to combine facelift with another facial plastic surgery, such as brow lift, blepharoplasty (eyelid surgery), facial fat grafting and chin or cheek implants. Dr. Kim will evaluate your facial features and anatomy and recommend a surgical approach to meet your goals, whether that's facelift or a combination of procedures.
Brow lift is a popular procedure that complements facelift results. People with a low, sagging brow and deep lines along the forehead and between the brows can benefit from this facial plastic surgery. Brow lift uses small incisions along the hairline to lift the forehead's deeper tissue layers and muscles. Dr. Kim expertly tightens the soft tissues in the forehead to restore a youthful, more contoured appearance. Addressing aesthetic issues with the forehead and brows along with a facelift rejuvenates the entire face.
Dr. Kim may recommend cosmetic treatments after your facelift to enhance results and stave off the aging process. Laser skin resurfacing, microneedling, injectables and other non-surgical options can improve the texture and tone of your face. Botox and dermal fillers can reduce wrinkle formation and add volume to areas of the face, such as the cheeks.
Choosing Facelift Surgery
Opting for a facelift is an individual decision, and you should only commit to this type of procedure if it is right for you and your goals. If you wish to have a more youthful overall appearance and a smoother, firmer, better contoured face, then facelift may be an excellent option. Patients who elect to have this surgery should be in good overall health, non-smokers and have positive and realistic expectations for facelift results.
Individuals contemplating a face or neck lift must keep in mind that it is an invasive, surgical procedure. There is always the option to choose non-surgical rejuvenation treatments instead, however, non-surgical treatments are unable to achieve the same results. Often, patients utilize other less invasive treatments until they are in need of a facelift, or they employ them after their face or neck lift to complement the results of surgery.
If you would like to rejuvenate your face with a non-surgical treatment either before, after, or in lieu of a surgical facelift or neck lift, you have many options. Dr. Kim offers Botox and dermal filler injections. These non-surgical procedures aim to smoothen fine lines, wrinkles, and other imperfections to give the face a healthier, fresher, younger look.
Facelift Procedure
Once you have decided to go forth with facelift surgery, Dr. Kim will go over the variations of the procedure in detail with you. You will be able to choose among a traditional facelift or a limited incision facelift.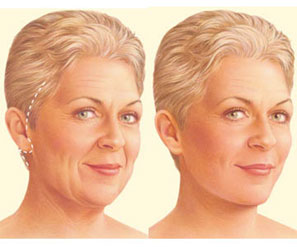 Traditional Facelift: This is likely the best option for individuals with excess skin and sagging of the face. The incision begins in the hairline at the temples and continues around the ear, ending in the lower scalp. In sculpting and redistributing fat around the jowls, face, and neck and repositioning and lifting tissue and muscles, the contour of the face is restored.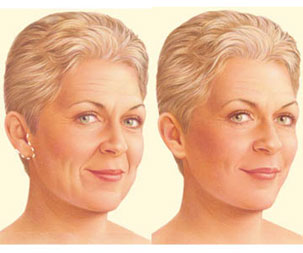 Limited Incision Facelift: As compared to the traditional facelift, this approach employs shorter incisions. They continue around the ear and potentially within the lower eyelids or under the lip.
Facelift Recovery
Dr. John Kim commonly performs facelifts as an outpatient procedure, and patients often are able to return home the same day as their procedure. For up to a few weeks, you may feel sore or experience some swelling, but you should be able to care of yourself immediately after surgery. To minimize post-surgical swelling and bruising, Dr. Kim gently places a bandage around the face to aid the healing process. A thin drainage tube may be necessary to collect excess fluid and blood after facelift surgery. This tube is only temporary and is removed after the initial recovery period is over.
Right after surgery, you will be given explicit instructions on how to care for the area following surgery. This includes medications to apply or take orally to aid healing and reduce infection risk as well as any driving or activity restrictions.
Dr. Kim will explain what to expect during the recovery process, including discomfort and pain relief and a series of follow-up visits to his downtown Chicago offices. It is crucial that you do not subject your face or incisions to any excess force, abrasion, or motion as you heal. Remember that uneven swelling in the face after your procedure is perfectly normal. Some people experience more puffiness in one area over another, but the swelling will go down within just a few days, and bruising will subside in approximately two weeks.
Approximately one week after surgery, you may start to apply makeup to the face to conceal any residual bruising. Facelift recovery is a gradual process, so it may take a couple of months before swelling is totally eliminated and your incision lines heal and mature. You should always remember to protect your face, neck and skin from the sun after facelift surgery. Also, be sure to lead a healthy lifestyle so your results can be optimally maintained over time.
Facelift FAQS
WHEN IS THE RIGHT TIME TO CONSIDER FACELIFT SURGERY?
Many people consider a facelift when signs of aging are noticeable and bother them when they look in the mirror. There is no perfect age for facelift surgery, but most patients have the procedure in their 40s and 50s. However, facelifts are available for people in their 20s to their 70s or older.
WILL FACELIFT SURGERY ELIMINATE ALL OF MY FACIAL WRINKLES?
Facelift can dramatically improve a patient's facial appearance by removing excess tissue and tightening the muscles and tissues. However, facelift surgery will not diminish subtle facial wrinkles. For patients with noticeable forehead or eye wrinkles (crow's feet), other facial rejuvenation procedures such as Botox, chemical peels or laser resurfacing may be recommended.
ARE THE RESULTS OF FACELIFT PERMANENT?
Facelift can restore a youthful complexion but does not stop the clock; it only rewinds it a little. You can extend facelift results by maintaining a healthy weight and avoiding excessive sun exposure. A good skincare regimen can help you enjoy a younger appearance longer.
WHAT AREAS CANNOT BE IMPROVED WITH FACELIFT?
Facelift focuses on the mid-face and lower facial areas, such as the jawline (jowls), neck and cheeks. The procedure will not address cosmetic concerns in the upper facial areas, including lines and wrinkles around the eyes, brows and forehead. However, facelift may be combined with brow lift or blepharoplasty to address these issues at the same time.
HOW MUCH PAIN CAN I EXPECT AFTER FACELIFT?
You can expect mild discomfort in the surgical area after facelift, but a majority of facelift patients don't feel much pain at all after the procedure. Dr. Kim may prescribe oral medication to keep you comfortable and relieve discomfort.
WHAT IS THE RECOVERY LIKE AFTER FACELIFT?
After facelift surgery, the patient will be sent home or to a recovery center with light facial dressings. Small drains may be placed, and the head should remain elevated for two to three days to minimize bruising and swelling. Patients typically look and feel confident after two weeks.
HOW LONG WILL THE RESULTS OF FACELIFT LAST?
FaceIift results may last 10 years if a skilled plastic surgeon performs the procedure, but the longevity of your results depends on several factors, including history of smoking and skin quality. Mini facelift results last up to four years before a revision procedure is necessary. The facelift procedure takes years off of your appearance and improves skin strength and resiliency to preserve facial rejuvenation results.
IS IT NECESSARY TO REPEAT THE FACELIFT PROCEDURE FOR DROOPINESS A FEW YEARS LATER?
Non-invasive treatments can offer a touch-up for your facelift results when the skin begins showing signs of aging again. Injectables can restore volume and fill in facial hollows that make you look older. Various dermal fillers trigger collagen production to help your body rebuild the skin's strength and flexibility with the natural protein.
HOW CAN I AVOID AN ARTIFICIAL-LOOKING RESULT, SUCH AS THE "PULLED" OR "WINDSWEPT" LOOK?
Facelifts in decades past focused on tightening the skin, but today's facelift procedures work to restore a supple appearance and remove loose skin without creating the windswept look once associated with the surgery. Choosing a surgeon with ample experience in facelifts is the best way to avoid an artificial-looking result. Do your research to locate a qualified board-certified plastic surgeon and look at the before and after gallery to get a sense for what your results could look like after facelift recovery.
Resources
Prior to choosing to have a face lift, it is important to do your research and ensure the procedure is a good fit for you. Dr. John Kim is board-certified by the American Board of Plastic Surgeons and provides the highest quality cosmetic surgery and reconstructive surgery in Chicago. Learn more about your plastic surgery options and schedule a consultation with Dr. John Kim today.