Body Contouring Introduction
Our body's natural proportions and curves are affected by weight gain and loss, pregnancy, gravity, and aging. When our body weight shifts, we may see significant disproportions in various body areas as well as sagging skin and excess fat. As we get older, our skin tends to lose the elasticity and firm contour it had when we were younger. Even though we may lose weight, our skin does not have the tight tone it once had, so it lacks the elasticity necessary to conform to a new, smaller body size.
After major weight loss, undergoing body contouring surgery with Chicago plastic surgeon, Dr. John Kim can significantly improve the shape and tone of your underlying tissue as well as remove your excess, sagging fat and skin. Body contouring helps shape, tighten, firm, and tone your underlying tissues so you can achieve a more normal body appearance with smoother contours. This type of surgery can increase your self-esteem and improve your overall body image.


Choosing Body Contouring
Choosing to undergo body contouring surgery is a highly personal decision, which you should make based on your own goals and desires and not those of anyone else. A crucial factor in determining your candidacy for this series of procedures is your ability to maintain a stabilized weight. If you continue to lose weight after Dr. Kim performs your Chicago body contouring surgery, you may develop sagging pockets of skin. If you gain weight post-operatively, strain will be placed on the already weakened skin, resulting in probable stretch marks and visible scars.
Ideal candidates for this surgery have sagging and excess skin and fat after having lost significant amounts of weight. Those who choose this surgery should be at a stable weight, not smoke, be in good physical health, and have realistic goals and expectations for surgery with Dr. Kim.
At the time of your personalized consultation with Chicago cosmetic plastic surgeon Dr. John Kim, Dr. Kim will carefully examine your body so he may customize a treatment plan for you. If you had prior weight loss surgery, Dr. Kim will work closely with your other physician to decide on appropriate timing for body contouring surgery. Dr. Kim will discuss the risks and benefits of the procedure, so you may decide if the benefits will indeed fulfill your goals and expectations, and if the risks of potential complications are acceptable. Dr. Kim will help you make an informed decision about your body contouring surgery options.


The Body Contouring Procedures
Body contouring encompasses a series of procedures to tighten and improve body contours. Common body contouring surgeries include:
Lower body lift: to correct sagging of the outer thighs, groins, buttocks, and abdomen
Arm lift: to correct upper arm sagging
Thigh lift: to correct inner, outer, and mid-thigh sagging
It is common for body contouring surgeries to require excessive skin removal and rather large incisions. Sometimes, Dr. Kim is able to place his patients' incisions in subtle locations where they are hidden by clothing. The pattern and length of the incision depends on how much excess skin and fat needs to be removed and what extent of overall correction is needed. It is also common for Dr. Kim to perform body contouring procedures in stages, as opposed to all surgeries at one time. It may take up to two years to complete all stages in your body contouring. Together during your consultation visit at Northwestern Plastic Surgery, you and Dr. Kim will formulate your individualized surgical plan that is based on your specific condition, goals, and expectations.
Body contouring surgery is often performed in a series of stages. Dr. Kim will develop a surgical plan that will be based upon your condition, your goals, as well as his best judgment. Keep in mind that the results of your body contouring surgery may take up to two years to complete.
Body Lift
Lower body lift targets sagging outer thighs, hips, waist, abdomen, or buttocks. Improving these areas may be done all at once or as staged procedures, according to Dr. Kim's best clinical judgment. Lower body lift can include a tummy tuck (also known as abdominoplasty), thigh lift, and buttocks lift. Incision lengths and patterns can be variable, but a common incision is a circumferential one around the body to remove the "belt" of excess fat and skin in your midsection.
Arm and Thigh Lift
The goal of an arm lift (also known as "brachioplasty") is to slim and reshape the area between your elbow and your underarm. Dr. Kim removes excess fat deposits and skin to reshape and improve the contour of the arm, giving patients a more toned and proportionate look. There are different patterns and lengths of incisions for arm lifts that Dr. Kim can employ, but typically the cut is made from the underarm along the inside or back of the upper arm. The incision depends on the amount of skin and fat that needs to be removed and the overall amount of aesthetic correction needed. During your consultation with Dr. Kim, he will inform you of your incision options and help you decide which choice is best for achieving your goals.
A thigh lift reshapes the inner or outer thighs through reduction of excess skin and fat deposits. The goal is better proportioned upper leg contours and a more toned look. As with the arm lift, thigh lift incisions can vary in pattern and length, but typically the cut is made on the inner part of the thigh (near the groin) and extends downward toward the knee along the inner thigh. It is possible that Dr. Kim will need to make an additional incision extending from the groin around the hip. Your specific anatomy and required amount of surgical correction of excess skin and fat will dictate the kind of incision Dr. Kim employs during your procedure.
With both arm and thigh lift, Dr. Kim will first make the incision and then tighten the tissues underneath your skin to achieve a smoother, tighter contour and improved appearance.
Recovery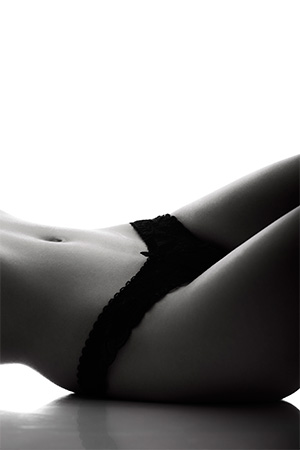 Chicago aesthetic plastic surgeon Dr. John Kim most commonly performs his body contouring surgeries on an outpatient basis, meaning your hospital stay will be 23 hours or less. Directly after surgery, he may apply dressings and bandages to your incisions, and perhaps an elastic bandage to reduce swelling. He may also place thin, small drains temporarily in order to remove any excess fluid or blood that wants to accumulate at your surgical site. Dr. Kim will provide you with detailed, specific instruction how to care for your surgical site after the procedure, including which medications to apply or take orally to aid healing and avoid infection, as well as when to follow up with him in his Northwestern Plastic Surgery office in Galter Pavilion in downtown Chicago.
The typical healing period for an arm lift is approximately 2-3 weeks; the typical healing period for thigh lift is approximately 4-6 weeks.
During the days and weeks following surgery, it is essential that you follow the limitations Dr. Kim has put in place for you. He will specify his expectations for your activity levels, driving restrictions, and follow up visits. He will also share what to expect in terms of pain. He will stress how important it is that your incisions are not subjected to any abrasion, motion, or excessive force during your recovery period. The healing process varies from patient to patient as well as based on the amount of correction Dr. Kim has performed during your body contouring surgery. Usually, Dr. Kim asks that his patients wear a compression garment to support their healing tissues and minimize swelling. After a few weeks, patients typically resume the majority of normal daily activities, including mild exercise.
Swelling usually begins to dissipate within two weeks of surgery, at which time you will begin to notice your smoother, firmer contours. Scars often appear prominently during the first few months, but they flatten and lighten in color gradually. They will never disappear completely, but Dr. Kim does his best to place them in subtle locations where they can be covered by clothing.
You will be able to start seeing the results of your Chicago body contouring surgery right away, but it may take as long as 1-2 years before your results totally develop. These results will, however, be long lasting provided you maintain an active, healthy lifestyle.