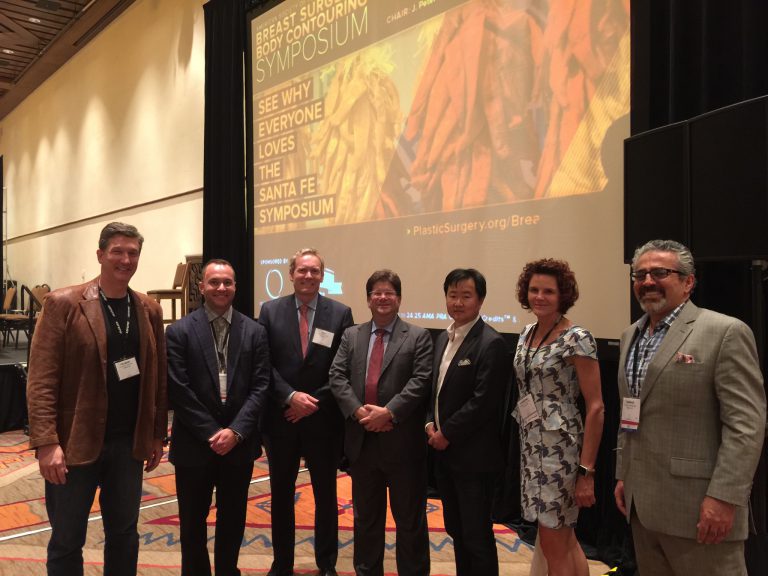 Next week in Santa Fe, plastic surgeons from around the world will gather for the 31st annual American Society of Plastic Surgeons Breast Surgery and Body Contouring Symposium. During this event plastic surgeons will learn new surgical techniques to advance patient care, how to assess strategies for aesthetic and reconstructive breast procedures, and novel technologies and skills that can be instantaneously translated into practice.
Dr. John Kim, the co-chair of this prestigious event will be moderating discussions between leaders in the field of plastic surgery on matters such as breast augmentation, hot topics in breast surgery, and debates on controversial issues in breast surgery. The discussion on breast augmentation will include topics from technique, managing complications, fat grafting, and the difference in round v. shaped implants. Hot topics in breast surgery will cover different aspects of fat grafting, discussion on lymphedema surgery, transgender breast surgery, updated technique for pre-pectoral implant reconstruction, re-reducing the breast, and biofilms in breast implants. Finally Dr. Kim will moderate debates on the following topics: shaped v. round implants, the necessity of free flaps in breast reconstruction, incision site for breast reduction, use of fat in the breast, drugs to prevent venous thromboembolis, pre or post-pectoral prosthetic breast reconstruction, and the use of ADM in primary and secondary breast surgery.
As well as moderating discussions, Dr. Kim will also be presenting on risk associated with prosthetic breast reconstruction and the oncologic safety and efficacy of fat grafting. His presentation on risk will include how to quantify risk to benefit large population, how data can translate to an individual patients risk, and the development of the Breast Reconstruction Risk Assessment (BRA) Score. Understanding how big data can then relate to an individual through the BRA score can improve patient expectations and outcomes. His presentation on fat grafting will follow this tumultuous procedure from its earliest conception in 1893 to the years when it was dismissed as dangerous by the American Society of Plastic and Reconstructive Surgeons, to today when it is now a common practice. Fat grafting will be carefully dissected and discussed from varying perspectives including: radiographic findings, surgical complications, oncologic implications, and efficacy. Dr. Kim's presentations demonstrate novel interpretations of topics in the field of plastic surgery.
Dr. Kim will also be teaching an instructional course titled "Primer for ADM use in Primary and Secondary Breast Reconstruction." In this course he will share his experience and knowledge that he has gained from the thousands of surgeries he has performed over the past decade. During this course he will discuss ADM assisted breast reconstructions, which produce much greater aesthetic outcomes. Participants in the conference will learn about this technique, the preoperative risks, as well as how to make effective decisions during surgery. They will also learn the risks associated with the procedure and how to manage any complications. Participants in the program will also learn through examples different clinical problems that may arise and how they can be resolved using this technique. Courses such as these add great value to the continuing education of plastic surgeons who are interested in learning innovative ways to improve patient outcomes.
The ASPS Breast Surgery and Body Contouring Symposium is an opportunity for plastic surgeons to enhance their education, learn about advancements in the field, and have meaningful debates with their peers. Dr. John Kim is thrilled to have the opportunity to co-chair this event and looks forward to gaining new insights and sharing his knowledge.