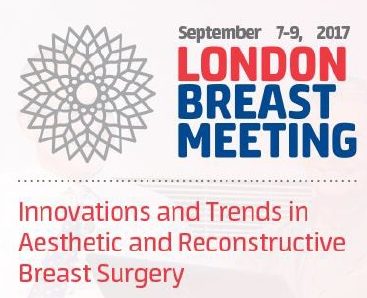 In March of 2016 Dr. John Kim was the keynote speaker at the Barcelona Breast Meeting. This conference invited world-renowned international faculty to meet and share knowledge on the latest breast surgery techniques. Current techniques were showcased in the form of live surgery sessions, pre-recorded video surgery, difficult case discussion, cross-fire debates, and round tables. With the goal of the optimization of desirable outcomes in breast surgery around the world, these experts shared professional insight, real life-experiences, and tips/tricks to identify common complications.
At this 3-day Barcelona Breast Meeting, Dr. Kim gave the keynote lecture titled, "To use or not to use ADM". ADM- assisted breast reconstruction has emerged as an increasingly popular technique over the past decade, and has gained widespread acceptance because of its potential for enhanced cosmesis. In this presentation Dr. Kim shed light on an approach for selective acellular dermal matrix (ADM) use in terms of the benefits, risks, and related complications in breast reconstruction. More information on this selective approach can be found in Dr. John Kim's paper: "An Algorithmic Approach for Selective Acellular Dermal Matrix Use in Immediate Two-Stage Breast Reconstruction: Indications and Outcomes."
Jordan, S. W., Khavanin, N., Fine, N. A., & Kim, J. Y. (2014). An algorithmic approach for selective acellular dermal matrix use in immediate two-stage breast reconstruction: indications and outcomes. Plastic and reconstructive surgery, 134(2), 178-188.
Earlier this September, Dr. John Kim was an invited faculty speaker at a related 3-day conference, the London Breast Meeting. The London Breast Meeting partnered with the Barcelona Breast Meeting to highlight the latest cutting edge surgical techniques from around the world. There was a focus on the innovations and trends in aesthetic and reconstructive breast surgery. This meeting brought together a faculty of over 50 international experts, who were able to share insight and knowledge over the course of these 3 days.
At this conference Dr. Kim presented on the topic of "Fat grafting to the reconstructed breast," specifically speaking about tips and tricks involved with this procedure. Dr. Kim also spoke about efficiency in autologous breast reconstruction with a presentation titled, "Evidence based assessment for autologous breast reconstruction." In this talk he discussed surgical decision making, as well as the individualized risks and outcomes involved for the various types of autologous reconstruction.