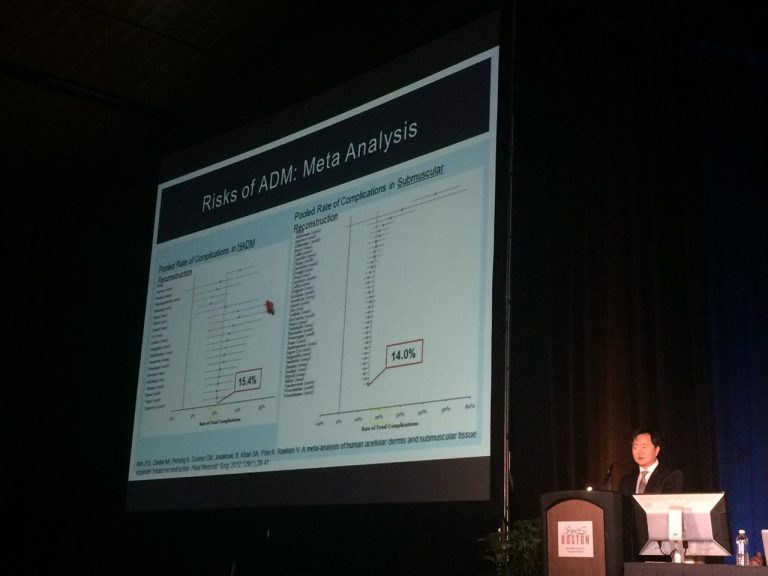 In October, Dr. John Kim traveled to Boston, MA for American Society of Plastic Surgeons The Meeting, an annual conference where plastic surgeons from around the globe convene to learn from the brightest minds in their field. Currently serving as Chair of the ASPS Breast Subcommittee, Dr. Kim had the privilege of sharing his breast reconstruction expertise in a variety of settings throughout the week.
Before the conference had even officially began, Dr. Kim and a team of world-class reconstructive surgeons lead the first ever Breast Reconstruction Cadaver Lab. During this hands-on instructional course, Dr. Kim shared his expertise in utilizing acellular dermal matrix (ADM) to aid in fixing some of the most challenging problems posed by breast reconstruction. Composed of human collagen (the layer of skin that makes it both strong and flexible), a sheet of ADM is used to create an "internal brassiere" that provides support for a breast implant. During either breast tissue expander placement or a subsequent revision procedure, the surgeon cuts a sheet of ADM to the desired shape and fastens it in place with absorbable sutures. Over time, the ADM is integrated into the patient's own tissue, resulting in a thicker layer of skin to support the reconstructed breast. ADM is primarily used to correct vertical asymmetry of the breasts or elevate the inframammary fold, but it is also used to correct medial (to the middle) or lateral (to the side) displacement of an implant as well. Having both conducted research on ADM and utilized it in his own patients for numerous years, Dr. Kim is considered to be an expert on the topic.
Later in the conference, he participated in two panel debates – the first, in which surgeons discussed the nuances of prosthetic breast reconstruction, and the second, in which Dr. Kim employed his outcomes-based research to deliberate the effect of surgical duration on complications in body contouring. Finally, Dr. Kim was tasked with instructing the Comprehensive Breast Reconstruction course, in which he provided an overview of all aspects of prosthetic breast reconstruction. Included are photos from his presentation, "Internal Support for Prosthetic Breast Reconstruction – The Case for ADM" in which he discussed the use of ADM for breast reconstruction and revision breast surgery.