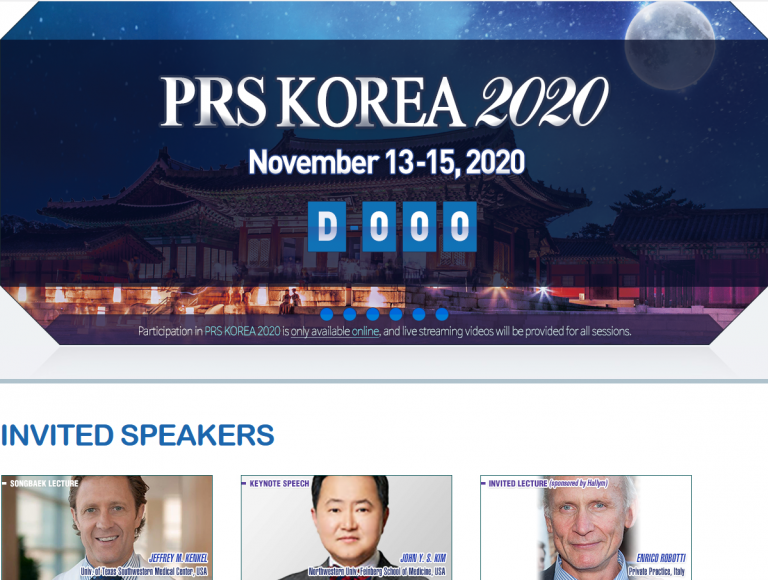 This past Friday, November 14th, Dr. Kim gave the Keynote Lecture at the Korean Plastic and Reconstructive Surgery Meeting. While this event is normally held in Seoul, South Korea the coronavirus pandemic result in an online meeting. This 3-day meeting is focused on the newest advances and research in many different facets of plastic and reconstructive surgery.
Entitled "Challenges and Controversies in Prosthetic Breast Reconstruction," Dr. Kim's keynote lecture focused on 4 key issues in breast reconstruction: dissection of the pectoralis muscle, the use of ADM or mesh, fat grafting, and the immunological effects of implants. You can view Dr. Kim's full lecture on his YouTube channel or by clicking here.
Dr. Kim also participated in a discussion entitled "What is the Currently Hot Topic in Implant Breast Reconstruction?" with several other Plastic Surgeons from top universities in Korea including Seoul National University, Korea University, and Yonsei University. It was particularly interesting to see the differences between the preferences of Korean patients and United States patients. In the United States, breast reconstruction is often done in 2 stages: first a tissue expander is placed and then a permanent implant in a subsequent surgery. Yet many of the plastic surgeons from Korea stated they most often performed single stage reconstruction known as Direct to Implant, where the permanent implant is placed immediately following the mastectomy. The surgeons agreed that this was mostly attributed to cultural preferences when it comes to surgical procedures. For more information on breast reconstruction.