Prentice Women's Hospital is located on Northwestern University's downtown campus near the Magnificent Mile. It was first opened in 1975 with a stark design by Bertrand Goldberg whose architecture is seen elsewhere throughout the city. In recent years the building has been remodeled and connected to the other buildings within the medical campus making your visit to Prentice easier and to allow for the establishment of modernized facilities improving patient care.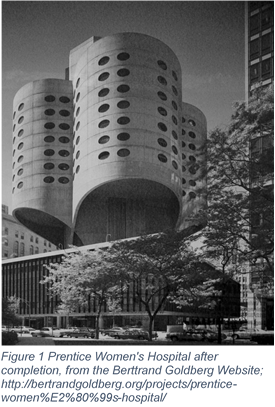 Prentice Women's Hospital is the home of the Lynn Sage Breast Cancer Program. This program serves women with breast health issues offering medical care, screening services, and educational programming. In addition to screening mammography there are a large range of breastimaging services available at Prentice including: 3D mammography, diagnostic mammography, diagnostic mammography with computer assisted diagnosis, digital mammography, breast ultrasound, breast magnetic resonance imaging, image guided breast biopsies, stereotactic breast biopsies, and needle localizations.
The Lynn Sage Breast Cancer Program collaborates with Gilda's Club to offer ways for women, children, and their families to connect with people battling cancer. Gilda's club was opened to honor Gilda Radner an original Saturday Night Live cast member, who suddenly died of ovarian cancer. Her death helped to raise awareness of early detection of ovarian cancer. Gilda's Club in Chicago has daily events from yoga to group therapy to arts programming.
Prentice also provides a Look Good … Feel Better program for women undergoing cancer treatment. On the 4th of Monday of every month from 10:00AM to 12:00PM on the 4th floor of Prentice Women's hospital they offer group programs to improve self-confidence by teaching techniques to help combat the appearance-related side effects of cancer treatment.
There is significant research being published by the physicians and scientists who provide care at Prentice Hospital, which offers their patients cutting edge care and the newest advancements in medical practice. Northwestern is committed to educating the public about new developments in cancer prevention and treatment by offering events for patients and families throughout the year.