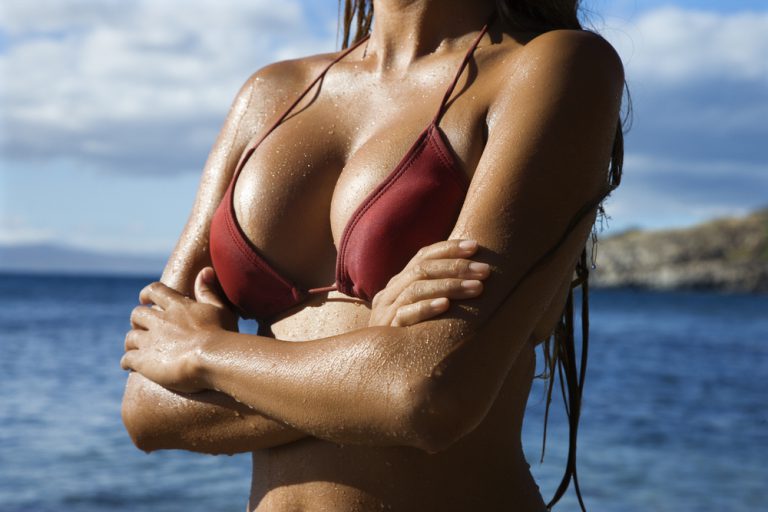 The modern implant was invented by Drs. Thomas Cronin and Frank Gerow1. From 1963 till the mid-nineties the implant went through five generations. The original Cronin-Gerow implant was tear drop shaped and it was attached within the implant pocket1-3. The second generation of implants were much thinner in the hopes of improving the functionality and aesthetic, but they were prone to rupture and leaking2,3. Both the third and fourth generations of implant were created to decrease the issue of rupture2,3. The fifth generation of implant brought about the highly cohesive silicone gel implants, also known as the gummy bear implant2,3. Since the first use of implants for breast augmentation in the mid-twentieth century implants have changed in terms of shape, texture, and material make up.
According the FDA website there are three approved US manufacturers of breast implants: Allergan Inc., Mentor World Wide LLC, and Sientra Inc4. In their catalogs these companies feature a plethora of options from smooth to textured, shaped or round, different profiles etc. These companies are also engaged in long term research to determine how their implants affect health, and if there are long term risks patients and physicians should be aware of. How will a shaped or round implant look? Does one give a better aesthetic outcome? What does it mean to have a textured or smooth implant? What are the risks? Why choose a silicone or saline implant? Are there safety concerns? To better understand how to choose an implant it is crucial to understand the characteristics that make each style of implant different from its shape, to its texture, and finally its filler material.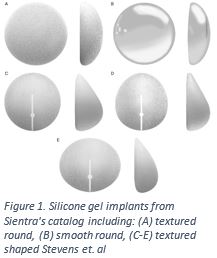 Anatomic or shaped implants were approved by the FDA in 2006, and since have been used widely in both augmentation and breast reconstruction4. Shaped implants have a tear drop shape and more closely mimic the actual shape of the breast, whereas the round implants are spherical; Figure 1 shows the differences between Sientra's shaped and round implants. The shaped implant has significantly more volume in the lower pole and will need to be placed at the midpoint relative to the nipple areola complex, whereas the round implant must be placed bellow the nipple areolar complex5. In order to maintain the aesthetic result the implant must maintain its relationship with the nipple areolar complex. To date there are no studies examining changes in the relationship between the implant and the nipple areolar complex over time. In a multi-institutional analysis of mastectomy reconstruction outcomes between round and shaped outcomes it was found that shaped implants were more likely to have a complication, although they were less likely to undergo a revision procedure6.
All shaped implants are textured which helps to prevent rotation within the breast cavity, whereas round implants can be either smooth or textured. There are some concerns about the use of textured implants such as risks of seromas, double capsule, and anaplastic large cell lymphoma7-9. Atlan and colleagues analyzed implants via microscopy techniques and cell adhesion studies in order to classify the differences in texturing between Allergan, Mentor, and Sebbin textured implants, as seen in Figure 210. The textured implant was developed with the hope of minimizing the risk of capsular contracture2. It was shown that the use of textured implants can reduce the risk of capsular contracture, moderate malposition, and the need for reoperation11,12. Although it is still unclear if subpectoral placement may impact the risk of capsular contracture 12-15. It is possible that a change in surgical technique could help ameliorate some of these risk factors, versus the implant choice.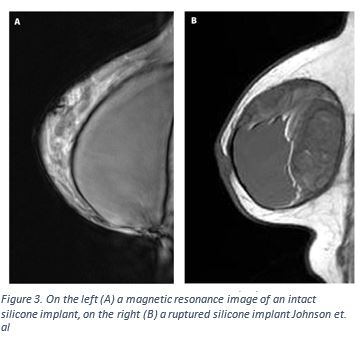 Both saline and silicone breast implants have a silicone shell16. They differ in the filler material, consistency, and how they are placed within the capsule. Saline breast implants are filled with sterile salt water whereas silicone implants are filled with a silicone gel17. Implant rupture is easier to detect with a saline implant versus silicone, because the free silicone generally remains in the capsule around the implant whereas the saline implant will deflate and the salt water within will be absorbed by the body17,18. Silicone gel implants have a more natural look and consistency than saline implants, but their placement is slightly more invasive17. A saline implant is inserted while it is collapsed, and is then filled when it is within the capsule17. Mentor is the only company that in 2015 had a saline implant that could be further adjusted after the operation 2. A silicone implant requires a larger incision to be placed and the size cannot be adjusted17. Both saline and silicone implants have similar risk factors: capsular contracture, pain, infection, changes in breast or nipple sensation, and implant rupture17,18.
Considering all the factors that distinguish one implant from another and the multitude of research on the outcomes of using one implant versus another it is important to speak with your plastic surgeon about your concerns and goals in order to have a safe and satisfactory experience.
1. Cronin TD, Gerow FJ (1963). "Augmentation Mammaplasty: A New "natural feel" Prosthesis". Excerpta Medica International Congress Series. 66: 41.
2. Henderson, P. W., Nash, D., Laskowski, M., & Grant, R. T. (2015). Objective Comparison of Commercially Available Breast Implant Devices. Aesthetic plastic surgery, 39(5), 724-732.
3. Spear, S. L., & Jespersen, M. R. (2010). Breast implants: saline or silicone?. Aesthetic Surgery Journal, 30(4), 557-570.
4. "Breast Implants." Breast Implants. US Food and Drug Administration, 17 Sept. 2013. Web. 11 Nov. 2016.
5. Mallucci, P., & Branford, O. A. (2015). Shapes, Proportions, and Variations in Breast Aesthetic Ideals: The Definition of Breast Beauty, Analysis, and Surgical Practice. Clinics in plastic surgery, 42(4), 451-464.
6. Khavanin, N. Shaped versus Round Implants in Breast Reconstruction: A Multi-Institutional Comparison of Surgical and Patient Reported Outcomes. Manuscript Submitted
7. Mazzocchi M, Dessy LA, Carlesimo B, Marchetti F, Scuderi N (2010) Late seroma formation after breast surgery with textured silicone implants: a problem worth bearing in mind. Plast Reconstr Surg 125(4):176e–177e
8. Santanelli di Pompeo F, Laporta R, Sorotos M, Di Napoli A, Giovagnoli MR, Cox MC et al (2015) Breast implant-associated anaplastic large cell lymphoma: proposal for a monitoring protocol. Plast Reconstr Surg 136(2):144e–151e
9. Hall-Findlay EJ (2011) Breast implant complication review: double capsules and late seromas. Plast Reconstr Surg 127(1):56–66
10. Atlan, M., Bigerelle, M., Larreta-garde, V., Hindié, M., & Hedén, P. (2016). Characterization of Breast Implant Surfaces, Shapes, and Biomechanics: A Comparison of High Cohesive Anatomically Shaped Textured Silicone, Breast Implants from Three Different Manufacturers. Aesthetic plastic surgery, 40(1), 89-97.
11. Headon, H., Kasem, A., & Mokbel, K. (2015). Capsular Contracture after Breast Augmentation: An Update for Clinical Practice. Archives of plastic surgery, 42(5), 532-543.
12. Namnoum, J. D., Largent, J., Kaplan, H. M., Oefelein, M. G., & Brown, M. H. (2013). Primary breast augmentation clinical trial outcomes stratified by surgical incision, anatomical placement and implant device type. Journal of Plastic, Reconstructive & Aesthetic Surgery, 66(9), 1165-1172.
13. Wong, C. H., Samuel, M., Tan, B. K., & Song, C. (2006). Capsular contracture in subglandular breast augmentation with textured versus smooth breast implants: a systematic review. Plastic and reconstructive surgery, 118(5), 1224-1236.
14. Barnsley, G. P., Sigurdson, L. J., & Barnsley, S. E. (2006). Textured surface breast implants in the prevention of capsular contracture among breast augmentation patients: a meta-analysis of randomized controlled trials. Plastic and reconstructive surgery, 117(7), 2182-2190.
15. Fagrell, D., Berggren, A., & Tarpila, E. (2001). Capsular contracture around saline-filled fine textured and smooth mammary implants: a prospective 7.5-year follow-up. Plastic and reconstructive surgery, 108(7), 2108-2112.
16. Rochira, D., Cavalcanti, P., Ottaviani, A., & Tambasco, D. (2016). Longitudinal Ultrasound Study of Breast Implant Rupture Over a Six-Year Interval. Annals of plastic surgery, 76(2), 150-154.
17. Spear, S. L., & Jespersen, M. R. (2010). Breast implants: saline or silicone?. Aesthetic Surgery Journal, 30(4), 557-570.
18. Handel, N., Garcia, M. E., & Wixtrom, R. (2013). Breast implant rupture: causes, incidence, clinical impact, and management. Plastic and reconstructive surgery, 132(5), 1128-1137.
19. Stevens, W. G., Harrington, J., Alizadeh, K., Broadway, D., Zeidler, K., & Godinez, T. B. (2015). Eight-year follow-up data from the US clinical trial for Sientra's FDA-approved round and shaped implants with high-strength cohesive silicone gel. Aesthetic Surgery Journal, 35(suppl 1), S3-S10.
20. Johnson, M. (2013). Breast implants: history, safety, and imaging. Radiologic technology, 84(5), 439M-520M.