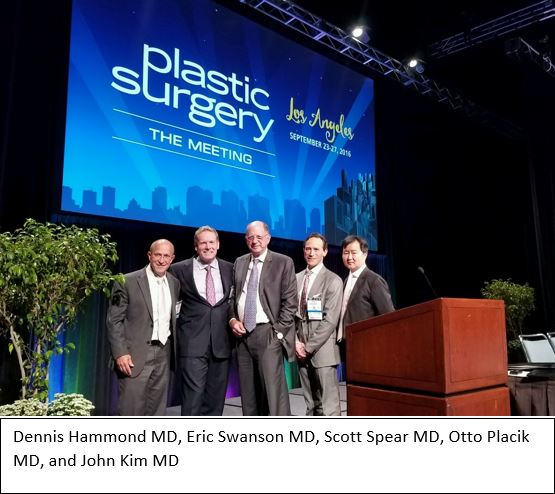 From September 23rd to the 27th, plastic surgeons from 50 countries met in Los Angeles to take part in "Plastic Surgery the Meeting" sponsored by the American Society of Plastic Surgeons, the Plastic Surgery Foundation, and the American Society of Maxillofacial Surgeons. Dr. Kim attended the meeting to present on the use of shaped and round implants and a discussion on when an aesthetic case becomes reconstructive, and as the chairman for the rhinoplasty and migraine courses for ASPS cadaver labs.
Dr. Kim presented during the ASPS Instructional Course "Using Round vs. Shaped Implants in Breast Reconstruction." The Food and Drug Administration approved the use of anatomic, shaped, implants in 20121. Previous studies have shown that shaped implants can create a more natural appearance in aesthetic breast surgery. However, not many studies have quantified the risk and benefits of using shaped implants in reconstruction2. Dr. Kim explained the differences between the conditions of breast augmentation and reconstruction, citing the natural shape achieved with shaped implants. He also discussed the impact of skin sparing mastectomies on reconstructing the breast due to the relationship between skin surface area, volume and projection. He presented data on surgical complications comparing shaped v. round implants from three implant manufacturers: Allergan, Sientra, and Mentor. And presented new research from a large multi-institutional study that presented complication rates, operative revisions, and patient reported outcome measures in patients who had either shaped or round implants. Finally Dr. Kim presented case studies to discuss the aesthetic elements of using shaped or round implants, shared technical tips when using one implant versus the other, and how to manage a good aesthetic outcome with radiation.
"Blurred Lines: When the Aesthetic Case Becomes Reconstructive" was presented during the ASPS Panel. During this discussion, Dr. John Kim offered examples of complications that can occur during an aesthetic case. He discussed the following complications: infection, severe capsular contracture with thinning of the skin, extreme distortion of anatomy, and circulation issues that lead to the loss of nipple or skin. He discussed the reconstructive principles that can be applied to these complications to reduce the problem including: debridement, fat grafting, skin grafting, tissue expansion, or revision using a local or distant flap.
The cadaver labs are in a small group format, which allows for hands on experiences and a platform for experts in the field to share their skills with a younger generation. The course began with the migraine surgery cadaver lab directed by Jeffrey Janis, MD. Topics covered during the course included: anatomy of peripheral trigger sites, diagnosis of trigger sites, selection of surgical candidates, surgical treatment of trigger sites, and coding and insurance. The second aspect of the course was the precision rhinoplasty cadaver lab, directy by Ali Sajjadian MD, Bahman Guyuron MD, Mark Constantian MD, R. Laurence Berkowitz MD, and Rollin Daniel MD. The precision rhinoplasty cadaver lab taught participants about: correcting the deviated septum, correcting internal anatomy such as the inferior turbinates (responsible for directing airflow), and performing surgery to enhance facial balance by altering nose size, width, nostrils etc.
1S. Department of Health & Human Services, Food and Drug Administration, Center for Devices and Radiological Health. Natrelle 410 Highly Cohesive Anatomically Shaped Silicone-Filled Breast Implant – P040046. http://www.accessdata.fda.gov/cdrh_docs/pdf4/p040046a.pdf. Published February, 2013. Accessed July 17, 2016.
2Khavanin, N. Shaped versus Round Implants in Breast Reconstruction: A Multi-Institutional Comparison of Surgical and Patient Reported Outcomes. Manuscript Submitted.