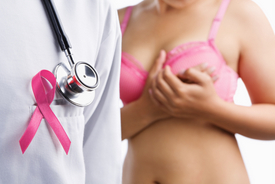 Over the past decade, Chicago reconstructive surgeon Dr. John Kim has helped countless women look and feel their best after breast cancer diagnosis and mastectomy. Here, he blogs about the importance of early conversation when considering breast reconstruction:
Although the time following breast cancer diagnosis may be understandably trying, it is important that a patient learn about all her treatment options early on in her journey. Of course, the top priority goes to treating the cancer, however, early treatment decisions will impact the patient's long-term physical outcomes.
The choice of whether to reconstruct or not is highly personal, but if the patient has any inclination toward reconstruction, it is best to seek the help of a reconstructive surgeon prior to scheduling any breast cancer surgery. The best reconstructive results are seen when early conversation allows both oncologic and plastic surgeons to work together to formulate the patient's best course of treatment.
Early discussion also allows for the possibility of immediate breast reconstruction (reconstruction performed during the same surgery as mastectomy) to enter the conversation for those who are candidates. As there are multiple procedures that may be done at the time of mastectomy, an early conversation affords the patient more options than if she waited to discuss reconstruction until her mastectomy was already performed. More benefits of immediate reconstruction include the preservation of breast skin, smaller and less obvious incisions, and fewer operations. Additionally, when an immediate reconstruction is performed, the patient wakes up with breast mounds already in place, so she never has to go through complete loss of her breast(s). Although some patients are not good candidates for this type of surgery, many find that having a plan for reconstruction in place prior to mastectomy to be a great source of comfort and relief.
If you or a loved one has been diagnosed with breast cancer, be sure to consult Chicago reconstructive surgeon Dr. Kim before scheduling any breast surgery. During your consultation, Dr. Kim will take time to carefully examine your unique anatomy and explain the options that are best for you. Also, please visit the photo gallery to see the beautiful results of patients who have turned to Chicago reconstructive surgeon Dr. Kim for reconstructive breast surgery.