As we age, exposure to the sun and stresses of daily life plus the effects of gravity can be seen on our faces. Often, deep creases form between the nose and mouth, folds and fat deposits appear around the neck, the jaw line grows slack and jowls develop. To restore a more youthful and beautiful appearance, many people opt to have a facelift or neck lift.
A facelift, also known as a rhytidectomy, will not stop the aging process but instead will improve the most visible signs of aging, or "set back the clock". In this procedure, Dr. Kim will remove excess fat and tighten underlying muscles, and then re-drape the skin of your face and neck. In smoothing out fine lines and deep folds, the face appears firmer and smoother, which imparts a younger appearance. This type of surgery often leaves patients feeling confident and rejuvenated. Although this surgery will help you achieve a younger, fresher appearance, it will not stop the actual aging process. The results will certainly be long-lasting, but they are not permanent. The best way to care for your results so they last include living an active, health lifestyle and taking good, thorough care of your skin. In particular, avoiding sun exposure is key, as this leads to many of the most common irregularities that develop on and around the face, such as the folds and deep wrinkles facelift and neck lift surgery attempt to repair. It is crucial to apply an SPF year-round on a daily basis and to minimize sun exposure via protective clothing and brimmed hats.
Dr. John Kim is a renowned plastic surgeon in Chicago, and he will work closely with you during your consultation visit to plan your surgery for optimal results. He will personalize your consultation to create a plan to make you look your best. Often, he will suggest you undergo a facelift in conjunction with a neck lift in order to achieve the best, most cohesive results.
If you are in Chicago or the surrounding areas, please contact Dr. John Kim's office to set up a consultation at Northwestern Plastic Surgery. At your personalized consultation, you can work with Dr. Kim to establish your goals and desires to create a more beautiful you.
Neck Lift: The neck is one of the foremost parts of our body that gives away our age. Loose, hanging skin that has lost its elasticity over time can create a shapeless, sagging neck. With a neck lift, Dr. Kim will remove fat and skin plus tighten the neck muscles to reduce wrinkles and create a tight, smooth profile. Combining a neck lift with a facelift can create an entirely new, rejuvenated appearance for you.
Brow Lift: If you have a low, sagging brow and/or deep frown lines, a forehead lift can improve the positioning of your eyebrows. The deep layers of tissue and muscles in your forehead will be lifted through very small incisions along your hairline. This yields a tightening of soft tissues in the forehead, restoring a better contoured appearance. Tightening the forehead skin along with a facelift can help rejuvenate the entire face.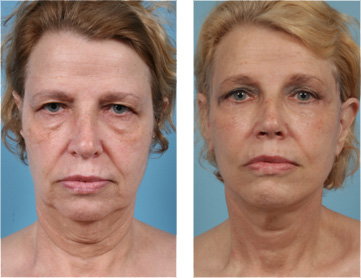 Before & After Facelift Photo Gallery
To enhance the outcome of your facelift, Dr. Kim will explain options regarding facial implants as well as soft tissue augmentation. He will also discuss resurfacing techniques to improve the texture and tone of your face. He can also give you ample information on wrinkle reduction via injectable materials like Botox.
Choosing Facelift or Neck Lift Surgery
Opting for a facelift or neck lift is a highly personal decision, and you should only commit to this type of procedure if it is right for you and your goals. If you wish to have a more youthful overall appearance and a smoother, firmer, better contoured face and neck, then a face or neck lift may be an excellent option. Patients who elect to have this surgery should be in good physical health, should not smoke, and should have specific but realistic expectations for face and neck lift results.
During your personalized consultation with Dr. John Kim, Chicago aesthetic plastic surgeon, he will carefully examine your face and take specific measurements. He will talk you through a customized treatment plan and discuss all the options available to you. He will help you understand all risks and benefits of the procedure so you can make your best, most informed decision.
Individuals contemplating a face or neck lift must keep in mind that it is an invasive, surgical procedure. There is always the option to choose non-surgical rejuvenation treatments instead, however, non-surgical treatments are unable to achieve the same results. Often, patients utilize other less invasive treatments until they are in need of a facelift, or they employ them after their face or neck lift to complement the results of surgery.
If you would like to rejuvenate your face with a non-surgical treatment either before, after, or in lieu of a surgical facelift or neck lift, you have many options. Dr. Kim performs Botox injections and dermal filler treatments. These are non-surgical procedures that aim to reduce fine lines, wrinkles, and other imperfections to give the face a healthier, fresher, younger look.
The Facelift and Neck Lift Procedures
Once you have decided to go forth with facelift or neck lift surgery, Dr. Kim will go over the variations of the procedure in detail with you. You will be able to choose among a traditional facelift, a limited incision facelift, and/or a neck lift.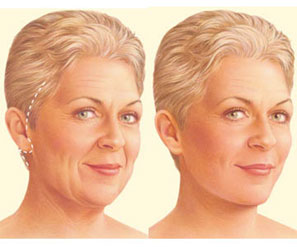 Traditional Facelift: This is likely the best option for individuals with excess skin and sagging of the face. The incision begins in the hairline at the temples and continues around the ear, ending in the lower scalp. In sculpting and redistributing fat around the jowls, face, and neck and repositioning and lifting tissue and muscles, the contour of the face is restored.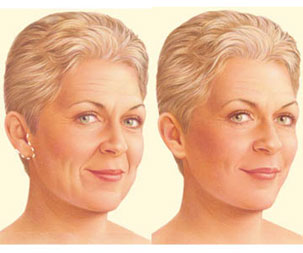 Limited Incision Facelift: As compared to the traditional facelift, this approach employs shorter incisions. They continue around the ear and potentially within the lower eyelids or under the lip.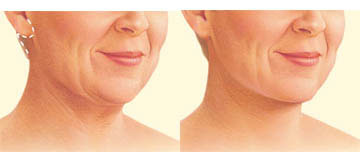 Neck Lift: This surgery is best for patients with sagging jowls, loose neck skin, and fat accumulation under the chin region. The incision starts in front of the ear lobe and wraps around behind the ear, finishing in the lower scalp.
Facelift and Neck Lift Recovery
Dr. John Kim commonly performs neck and facelifts on an outpatient basis, and patients often are able to return home the same day as their procedure. For up to a few weeks, you may feel sore or experience some swelling, but you should be able to care of yourself immediately after surgery. Typically, a bandage is gently placed around the patient's face to minimize post-surgery swelling and bruising as your face gradually heals. If Dr. Kim deems it necessary, a thin tube may be temporarily placed under your skin to drain any excess blood or fluid that may collect after surgery. Right after surgery, you will be given explicit instructions on how to care for your face following surgery. This includes medications to apply or take orally to aid healing and reduce infection risk as well as any driving or activity restrictions.
Dr. Kim will explain what to expect during your individual recovery period, including pain expectations and regimen of follow-up visits to his downtown Chicago offices. It is crucial that you do not subject your face or incisions to any excess force, abrasion, or motion as you heal. Remember that uneven swelling in the face after your procedure is perfectly normal. Some people experience more puffiness in one area over another, but the swelling will go down within just a few days, and bruising will subside in approximately two weeks. Approximately one week after surgery, you may start to apply makeup to the face to conceal any residual bruising. The healing process is a gradual one, so it may take a couple months before swelling is totally eliminated and your incision lines heal and mature. You should always remember to protect your face, neck, and skin from the sun after facelift surgery. Also, be sure to lead a healthy lifestyle so your results can be optimally maintained over time.
Facelift FAQs
Who is a good candidate for facelift surgery?
The best candidates for facelift surgery are patients who are in good health, do not smoke and have with realistic expectations about both the benefits and potential risks of facelift surgery.
When is the right time to consider facelift surgery?
When aging becomes noticeable and bothersome to you, it may be the right time for you to consider facelift. The timing varies by patient. Some individuals notice the effects of aging in their 20s and 30s, whereas in others they do not become evident until their late 70s. The majority of patients choosing to have facelift surgery are in their 40s and 50s.
What should I expect during my initial facelift consultation?
When you meet with Dr. Kim, you will discuss your desires and aesthetic goals. Dr. Kim may also go over other cosmetic procedures that rejuvenate the face, including forehead/brow lift, neck lift, blepharoplasty (eye lift), laser skin resurfacing, cheek and chin implants and fat grafting. At your initial plastic surgery consultation, it may be helpful for you to bring a list of questions and concerns that can be specifically addressed.
Will facelift surgery eliminate all of my facial wrinkles?
Facelift can dramatically improve a patient's facial appearance by removing excess tissue and tightening the muscles and tissues. However, facelift surgery will not diminish subtle facial wrinkles. For patients with noticeable forehead or eye wrinkles (crow's feet), other facial rejuvenation procedures such as Botox, chemical peels or laser resurfacing may be recommended.
Are the results of facelift permanent?
While facelift will not prevent a patient from aging further over time, it will "set back the clock." However, results may be prolonged in patients who maintain their weight, avoid exposure to the sun, and engage in proper skin care, keeping the skin appropriately hydrated.
What areas cannot be improved with facelift?
Traditional facelift surgery will improve the lower portion of the face, including the cheeks, jowls and neck. Facelift surgery will not rejuvenate the upper portion of the face, including the eyebrows, wrinkling between the eyebrows, extra skin of the upper or lower eyelids, or lower eyelid bags. If patients would like to target this area as well, Dr. Kim may recommend other facial rejuvenation procedures that may be done in conjunction with facelift.
How much pain can I expect after facelift?
Some patients may experience mild discomfort in the neck and facial region, which usually clears up within a day. Many patients do not feel much pain following surgery; to keep patients comfortable, they are often prescribed oral medication to relieve any pain they may experience.
What is the recovery like after facelift?
After facelift surgery, the patient will be sent home or to a recovery center with light facial dressings. Small drains may be placed, and the head should remain elevated for two to three days to minimize bruising and swelling. Patients typically look and feel confident after two weeks.
What areas does facelift effectively target?
Facelift is considered the gold standard of facial rejuvenation because it comprehensively corrects several signs of aging on the face. The procedure focuses on the middle and lower facial regions. This includes the area below the lower eyelids, cheeks and jaw line. It can address loose skin, displaced fat or sagging tissue on the cheeks, creases beneath the lower eyelids, excess skin and fat along the jawline, and furrows between the nose and corners of the mouth.
What are the advantages of combining facelift with neck lift?
After facelift, the loose, wrinkled skin of the neck may present a noticeable contrast with your rejuvenated facial appearance. If you were born with skin that lacks flexibility and resilience, you may develop neck skin that loses integrity and begins to sag. This is especially true in the case of patients who have lost a great deal of weight. Liposuction, cervicoplasty and platysmaplasty are the main surgical solutions for improving the appearance of the neck. Liposuction removes fat, cervicoplasty eliminates excess skin and platysmaplasty tightens or realigns neck muscles.
How long will the results of facelift last?
In general, facelift performed by a skilled plastic surgeon will last about 10 years. The range of results is dependent upon the type of facelift you choose, the suppleness of your skin and certain lifestyle factors, such as whether you smoke. Limited procedures such as the so-called "mini facelift" may last two to four years; and revisions may last up to seven years. Facelift pares years off your appearance, resetting the clock on the natural process of aging. Facelift also has the effect of slightly improving the strength and resiliency of the skin, helping to preserve your rejuvenated look into the future.
If I notice droopiness in a few years, will it be necessary to repeat the procedure?
When your facial skin needs a touch-up, there are many noninvasive options to consider. Laser resurfacing can smooth and tighten the skin, and injectables will fill lines, wrinkles and hollows on your face that make you look older. New varieties of dermal fillers not only add volume to targeted facial areas, but also trigger the production of collagen, the natural protein that adds strength and flexibility to the skin.
How can I avoid an artificial-looking result, such as the "pulled" or "windswept" look?
Your plastic surgeon's skill is key to achieving a successful facelift. So much of the final result will also depend on his eye for balance and beauty. A surgeon who has done many facelifts has accumulated experience with a wide variety of facial types and situations. A surgeon who keeps abreast of the latest techniques and medical best practices knows how important it is to pay attention to the muscles and ligaments under the skin, not simply stretch the surface. The so-called "windswept" or "open cockpit" look is often the result of a doctor cutting and stretching only the surface layer, creating tension with deeper tissue.
Resources
Prior to choosing to have a face or neck lift, it is important to do your research and ensure the procedure is a good fit for you.
More about Chicago Plastic Surgeon Dr. John Kim
Dr. John Kim is board-certified by the American Board of Plastic Surgeons and provides the highest quality cosmetic surgery and reconstructive surgery in Chicago. Dr. Kim offers a range of surgical and non-surgical treatments for the skin, body, face, and breasts. He is best known for his work as a top breast surgeon, with many patients seeking breast augmentation, breast lifts, breast reduction, or breast reconstruction. He performs a number of other procedures including abdominoplasty, mommy makeover, and arm lift surgery. Learn more about your plastic surgery options and schedule a consultation with Dr. John Kim today.